RWA OWL: Getting Comfortable Writing Sex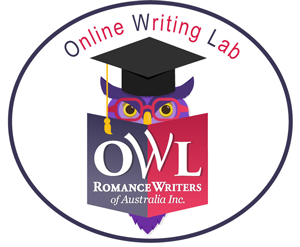 Are you uncomfortable writing sex scenes? Does sharing the raunchy scene you've written generate terror? Join us for a safe space to discuss writing, and publishing, sex scenes. Catherine Evans, who writes as little sex as she can get away with, joins with Cate Ellink, writer of in-your-face, explicit, sweary sex books, in a class that's open to all sorts of sex discussions. 
We'll look at a variety of published sex scenes to determine your comfort levels. We'll discuss different aspects of what makes writing sex scenes difficult. We'll follow on from the brilliant 2018 RWA Conference talks about consent and word choices, looking in more depth at what words you're happy to use. We can share sentences, paragraphs, scenes—whatever you're comfortable with.
This course requires respect and an open mind. If you can't handle risqué topics, frank discussions, an assortment of word choices which may include what's termed 'swearing' or 'blaspheming', then this course may not be for you.
The course will run for four weeks. All Lesson material will be made available at the start of the course in the form of downloadable PDF documents to allow participants to work at their own pace. But there will be a topic presented each week for discussion on the Moodle forum and chat session. 
Week 1 - what's difficult for you about writing sex scenes? What do you need to help you? 
Week 2 - words and word choices. 
Week 3 - commenting on a range of published sex scenes - interactive and different to those in the handouts. 
Week 4 - depending on class size, trying some of our own sex scenes.
The presenter is willing to be contactable personally should participants require extra assistance or more privacy.
There is no recommended time commitment. Participants are welcome to commit as much or as little time as they want. 
Prerequisites/prior knowledge
This is an Adults Only class.  An open mind and an adult approach to sex and discussions about sex is required. It isn't so much a writing class, so no prior writing level or craft knowledge is required. Participants don't have to have had sex, just being curious about it is enough for the class. 
Presenters Bio
Catherine Evans is a city-born throwback to country genes. Selecting a genre wasn't easy. She fell into romance and has since found a niche in rural romance—where she feels her years in agricultural research aren't wasted. Catherine has two books published with Escape Publishing—The Healing Season and Long Game.
Catherine's always had a secret wild side, and she indulges that by writing erotic romance and erotica as Cate Ellink. Cate has three novels with Escape Publishing—The Virginity Mission, Deep Diving and Team Player. She has eight short stories published, some with Escape Publishing and others in anthologies.
If you want to know more, please visit Catherine's website www.CatherineEvansAuthor.com or Cate's www.cateellink.com
Course Dates: 5th August to 1st September 2019
Cost: RWA-Member – $55.00 Non RWA-Member – $88.00
* Please note, there is a $0.50 Trybooking fee at checkout.
Venue: Online - RWA Moodle Platform
(Course attendees will be notified of access/login details via email from the OWL Registrar a few days prior to the start date of the course)




RWA OWL Courses
PO Box Q740




Queen Victoria Building




NSW 1230



Contact Details:




Tania Lee




OWL Registrar




owlsregistrar@romanceaustralia.com
SaveSave
This event is currently closed and no contact details are available