Aerials - Fitness - Community 
Welcome to Cirque M
Mudgee's Circus and Aerial Training Centre!
We are so proud to have been providing Mudgee with a creative, fun and unique activity for the past 4 years. We are heading into our 5th year we are ready for a big one!
Stay tuned for special events...
Term 1 will commence Monday 4th February 2018 and run through till Friday 5th April
There are no scheduled public holidays this term so all classes will run as listed.
If a class requires a makeup session, this will occur in school week 10 of each term.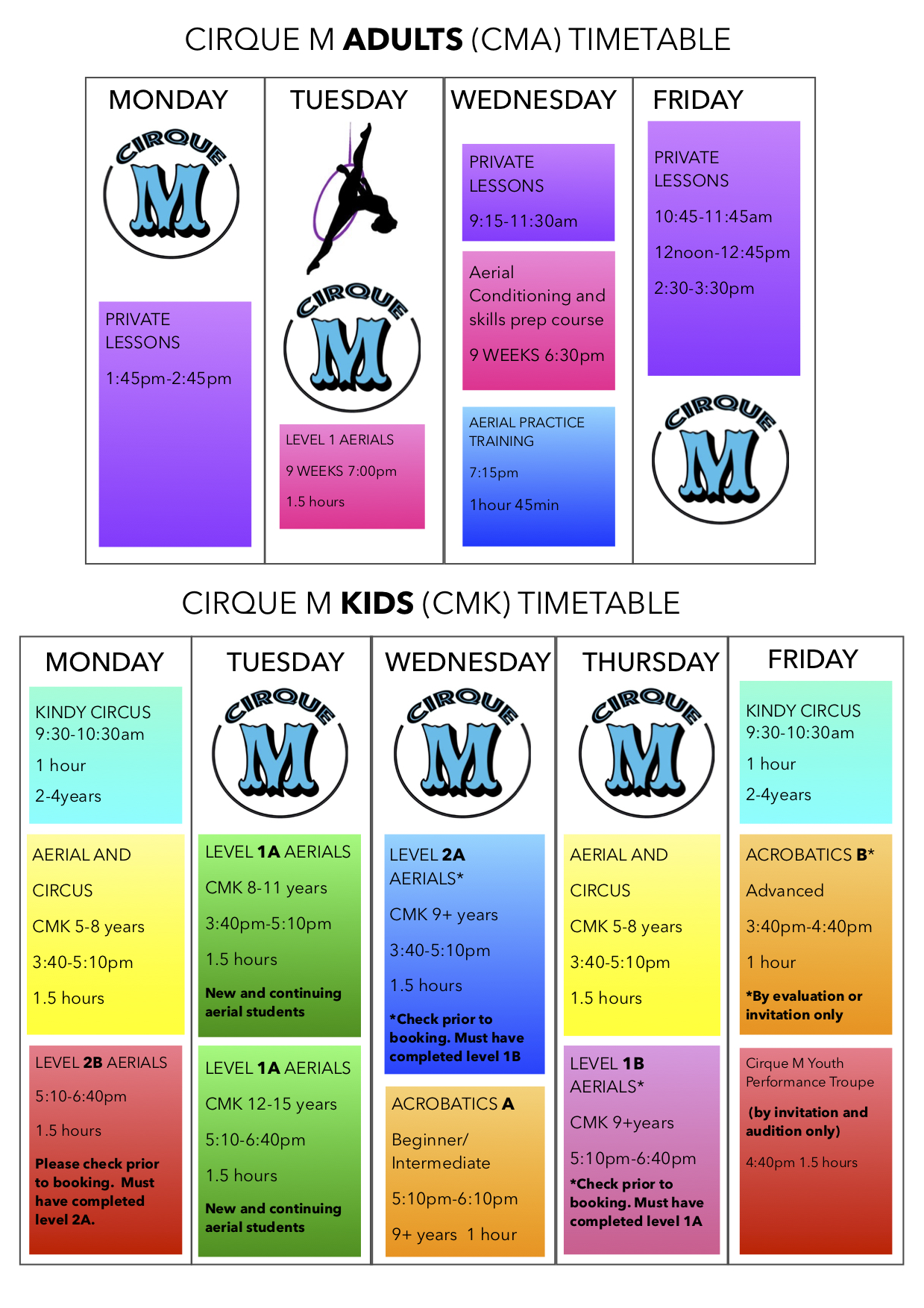 Progression Levels... Which level should I book into?
Our school has grown and we have designed this years classes to be able provide better groupings which enable everyone to progress further or if they are happy, stay where they wish.
Most classes you can simply click to book and your all done! 
The following classes listed mean you need to check with your instructor if you or your child are ready to move up or suitable for a certain class. We are more than happy to chat about it and would love to know how you or your child is going with their classes.
Kids Aerials LEVEL 1B- for kids who have done level 1A for 3 terms or more.
Kids Aerials LEVEL 2A and 2B.  Again kids that have completed level 1B for 3 or more terms.
Adults Aerials LEVEL 1A
ACROBTATICS with KELLY LEVEL B
If you are not sure you are welcome to contact the office vie email, phone or facebooke message to check in.

TEENS...NEW CLASS! After many inquiries we have decided to open up a young teens aerial class! Starting at 12 years through to 15 years. 
If you are 6 years you potentially can do an adults class (please inquire prior to booking)
ADULTS:
If you are brand spanking new at aerials and not sure how you'lle go, book into the 'aerial conditioning and prep course' on the Wednesday. If you can lift yourself into the air and are already reasonably fit, you can book into the 'level 1 aerials class' on the Tuesday.
Still not sure? Book yourself a half hour assesment and aerials intro for $40 to have a one one one mini lesson. This will welcome you to the space in a low key mannor and give you the space to see what your potential is. 
Kindy Circus Booking Details:
Your first child is $149 the second child discount is $99 for the term.
The siblings who are under 2 years do not need to pay so long as mum or dad or guardian are with them 100% of the time.
As soon as your child turns 2 they must be paid for.
There are 12 spots available for each session. If you have two kids, both need to be booked in unless your youngest is under 2 years. If they are turning 2 years old during the term, they will need to be booked in at the beginning of term This will ensure they receive their own tissu during the aeril component. otherwise they will share with their sibling.
(Please note: Kindy Circus is the only class that does not recieve the multi calss discount. It is already a discounted term fee.)
BOOK NOW & SAVE!
When booking more than 1 class you could be eligible for the following 6.7% discount.
OUR GIFT SAVE UP TO $30 approx when booking your children in together.
(Immediate family only-ie NO cousins or friends)
ENTER CODE: SIBLING
Become a Cirque M family member with the family discount
SAVE approx $15 per child and $20 per adult class
Please note, there is no sibling discount for Kindy circus. These classes are already at a discounted rate.
ENTER CODE: FAMILY
For booking more than one class?
We like to help make that possible and say thank you with a discount off your classes. (6.7%)
ENTER CODE: MULTICLASS
See you down a the space soon!
 
www.cirquem.com.au
This event is currently closed and no contact details are available