RSWWF Presents Women Writers@One: Leah Kaminsky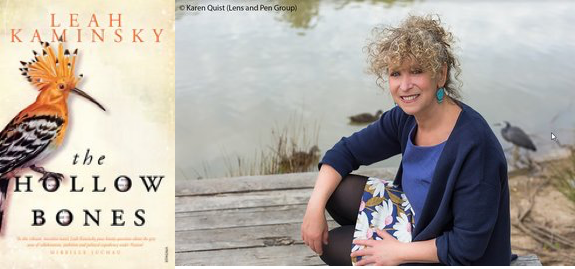 The Rose Scott Women Writers' Festival presents
Women Writers@One
Leah Kaminsky, author of The Hollow Bones, in conversation with Catherine du Peloux Menagé
The Rose Scott Women Writers' Festival Presents - Women Writers@One
Leah Kaminsky in conversation with Catherine du Peloux Menagé
Melbourne writer Leah Kaminsky's just published novel The Hollow Bones implores us to pay careful attention to the crucial lessons we might learn from our not-too-distant history.
"From the embers of history, Kaminsky weaves a cracking tale of adventure, competing loyalties and the folly of sacrificing reason on the ideological altar" Bram Presser
Berlin, 1936. Ernst Schäfer, a young, ambitious zoologist and keen hunter and collector, has come to the attention of Heinrich Himmler, who invites him to lead a group of SS scientists to the frozen mountains of Tibet. Their secret mission: to search for the origins of the Aryan race. Ernst has doubts initially, but soon seizes the opportunity to rise through the ranks of the Third Reich.
Leah Kaminsky is a physician and award-winning writer. Her debut novel, The Waiting Room, won the prestigious Voss Literary Prize. She conceived and edited Writer MD, a collection of prominent physician-writers, which starred on Booklist and is co-author of Cracking the Code, with the Damiani family. She holds an MFA in fiction from Vermont College of Fine Arts. (www.leahkaminsky.com)
Catherine du Peloux Menagé is a member of the 2018 RSWWF Committee, of BAD Sydney Crime Writers Festival, and of the Mark and Evette Moran Nib literary award. She has interviewed writers at the RSWWF, at St Albans Writers' Festival of which she was co-founder and Artistic Director from 2015-2018, at the Sydney Writers' Festival and at libraries around Sydney. She is Secretary of the Dickens Society of NSW.Leah's books will be available for purchase from the RSWWF bookseller, Better Read than Dead, and Leah will be signing books after the conversation. REGISTRATION
Registration is free but required for set up purposes. An express lunch available from 12.30pm to 1.00 pm may be booked at the same time as registration for $25.00. TWC members may register via the member portal with lunch for $20.00.
DRESS CODE
Smart casual or business wear. No jeans please.
SESSION DATE AND TIME
Location
The Women's Club
Level 4, 179 Elizabeth Street, Sydney, NSW 
Map
This event is currently closed and no contact details are available