Mt Sion Opening & Wellbeing Evening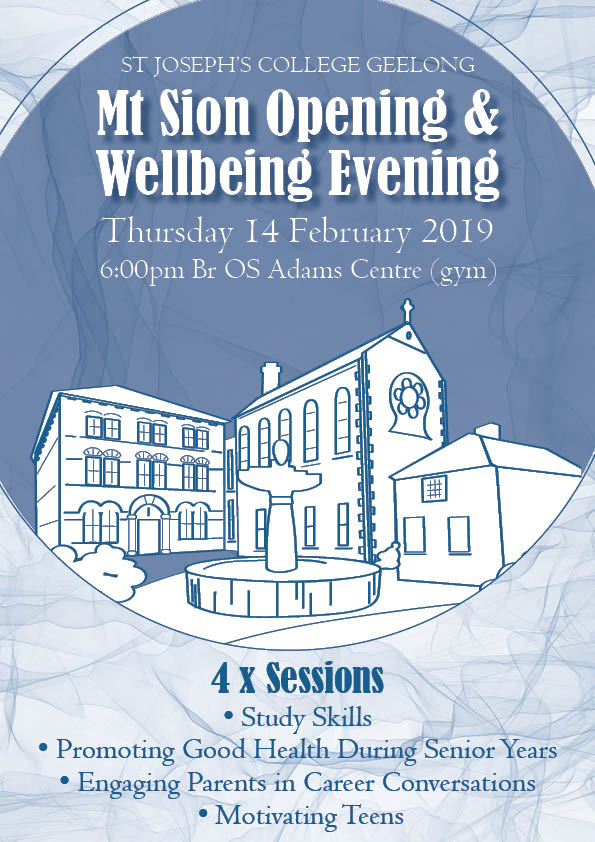 An information and wellbeing evening for our Mt Sion students and their families.
Guests will attend a general wellbeing and information session to be followed by specific wellbeing sessions. Each wellbeing session will run for 30 mins. Please select the two sessions you would like to attend on the evening at the time of booking. Details on each session are listed below. 
WELLBEING SESSIONS: 
ENGAGING PARENTS IN CAREER CONVERSATIONS
Every parent wants to see their child succeed in all aspects of their life, including choosing the right career path. Young people form many of their attitudes about work and careers as a result of interactions with their parents. What parents do for a living; where they live; their education, knowledge and skills; what they earn; and how they spend their time and money, have a huge influence on their child's career decision-making. It is important to remember that the career development process begins long before the adult years. As a parent or guardian, how much do you know about the current job outlook in Australia, about University and TAFE courses, about pathways, or places to find further careers information? Knowing more about career development, and where to find relevant careers information yourself, will help you help your family. The Careers Tools workshop will show parents and guardians where to locate careers information and resources.
PROMOTING GOOD HEALTH DURING SENIOR YEARS
Historically schools may have aimed for academic excellence as sole evidence for their success. At St Joseph's, we acknowledge the need to develop students in a more holistic way, with a strong focus on wellbeing. This focus is in response to the increasing statistics on adolescent psychological distress and mental illness, and the realisation of the need to take a more proactive, rather than reactive approach to mental health. The seminar aims to provide parents with insight and information on ways to support the wellbeing of their son. It will address how parents can help their sons to recognise their values, to identify and work with their character strengths and to normalise uncomfortable emotions such as stress and anxiety.  
MOTIVATING TEENS
This session is specifically geared for parents with teenagers and concentrates on how a parent can build their child's self-confidence so that they reach their fullest potential as well as how to motivate their child to achieve both academically & in life.
STUDY SKILLS
This parent session will provide an overview of the skills that are being covered in the student class sessions including time management, goal setting, motivation, study timetabling, managing distractions and general advice for parents about how to support and implement effective study at home. There will also be opportunities to ask questions or seek particular advice.
Between Thursday 14 February 2019 7:00 PM and Thursday 14 February 2019 7:30 PM
Location
Br OS Adams Centre (gym) and various rooms
135 Aphrasia Street, NEWTOWN, Victoria 3220
Contact Details
Mt Sion Opening & Wellbeing Evening
This event has now closed
Resend tickets to your email address.
Contact the event organiser.
You can review the event organiser's terms and conditions here.
Mt Sion Opening & Wellbeing Evening
Contact name: Natasha Solczaniuk
You can review the event organiser's terms and conditions here.
If you can't find your tickets, click here.
Your email has been sent.
The organiser will be sent the details of this message.

Sorry, there appears to have been an error. Please try again later.