Event Waitlist
Your name has been added to the wait list for this event. The event organiser will contact you through your email address once there are available seats / slots.
The InterPlay® Life Practice Program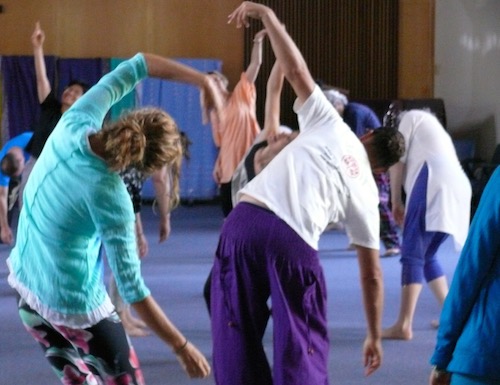 The Life Practice Program is an active, creative way to unlock the wisdom of your body. By maximizing ease and minimizing stress learn how to shape your life the way you want it to be. InterPlay is easy, incremental and affirming and focuses on building strengths through community, relationships and having fun. 
In The Life Practice Program you will learn the core elements of the InterPlay system; ideas and practices that help you move from where you are to where you want to be. InterPlay will teach you how to pay attention to all levels of your experience - mind, heart, body and spirit - to see how you can thrive when all parts are integrated.
Through playing, practice and personal support you will learn the many ways in which you can apply InterPlay to your life and work - to increase community, ease, grace, energy and joy and to create more choices and empowerment in your own life. Who knew that taking opportunities to creatively express your experiences, discerning your personal goals and desires and going for what you want could be so delightful?
The Life Practice Program is a pre-requisite for undertaking The InterPlay Leader Training Program which is an additional training necessary for accreditation to lead and teach InterPlay. 
In 2019, The Life Practice Program will be offered in Canberra, led by Biff Ward and Trish Watts.
Program Components 
1.    Artfulness and Play
Involvement in a total of 50 hours of accumulated play, in addition to The Life Practice Program, preferably through at least one untensive program (e.g. SummerPlay) as well as workshops and regular playtimes. 
2.    Life Practice Group Workshops 
These three workshops include The Secrets of InerPlay and provide an opportunity to apply InterPlay principles and practices to leading your life. The Group Workshops will be offered over three weekends as follows:  
Friday 17 May 7-9 pm, Saturday 18 May 9 am-5 pm, Sunday 19 May 10 am-3.00 pm 
Friday 14 June 7-9 pm, Saturday 15 June 9 am-5 pm, Sunday 17 February 10 am-3.00 pm
Friday 2 August 7-9 pm, Saturday 3 August 9 am-5 pm, Sunday 4 August 10 am-3.00 pm
3.    Creative Reflections
A series of Creative Reflections are to be completed as part of the Life Practice Program. This will enhance your ability to articulate your experience of InterPlay and apply InterPlay insights to your own life. 
4.    Focus Sessions
Each participant will receive 3 focus sessions and affirming feedback. The focus sessions will take place at the Group Workshops. They enable you to use the creativity of InterPlay forms to explore issues in your life through deeper play.
5.    Practice of InterPlay
At the end of the Life Practice Program participants will share a short presentation, highlighting how their InterPlay experience is impacting on their lives. 

The Role of the Life Practice Program Leaders
As well as leading the workshops, the leaders will provide responses to your creative reflections and also serve as a contact for any queries along the journey.
Your leaders are Biff Ward and Trish Watts.
Biff Ward was co-developer of the original Canberra InterPlay community and has now been leading InterPlay workshops for many years. She has led the Life Practice Programseveral times. She brings her huge range of experience as a teacher, writer and creative thinker to her leadership in InterPlay.
Trish Watts is the co-founder of InterPlay Australia. An inspirational singer, musician, teacher, community improvisor and group facilitator, Trish brings a multitude of experience and knowledge to her leadership of the Life Practice Program.  Trish is also a qualified Voice Music Therapy Practitioner.
Fees 
Fees cover:
•    The Secrets of InterPlay workshop
•    The Secrets of InterPlay manual
•    Life Practice Group Workshops
•    Focus Sessions
•    The InterPlay Life Practice Self-Study Guide
•    Written responses to your Creative Reflections 
 
The total cost for the Life Practice Program is $1100.  
Lunch: Lunch can be provided each day ($15 per day) if paid for with your registration; or you can make your own arrangements for lunch.
Separate payment is required for any other playgroups, classes or workshops that you may undertake during the course of the year. 
All financial arrangements need to be in place prior to the commencement of the Program and all payments must be completed by 30th September 2019. 
We are keen to include people who would like to do the InterPlay Life Practice Program but who may have difficulty with up-front finances.  Efforts will be made to accommodate financial or other challenges of individual participants.  If you would like to discuss possible alternative payment arrangements please contact InterPlay Australia's Training & Development Coordinator, Trish Fairley. 
To express your commitment to undertaking the 2019 InterPlay Life Practice Program in Canberra or for further information about the program please contact Trish Watts.
Location
O'Connor Uniting Church Hall
Cnr Scrivener & Brigalow Streets, O'Connor, ACT 2602
Contact Details
The Life Practice Program Canberra 2019
Make a booking, click below
Resend tickets to your email address.
Contact the event organiser.
You can review the event organiser's terms and conditions here.
The Life Practice Program Canberra 2019
Contact name: Trish Watts
You can review the event organiser's terms and conditions here.
If you can't find your tickets, click here.
Your email has been sent.
The organiser will be sent the details of this message.

Sorry, there appears to have been an error. Please try again later.