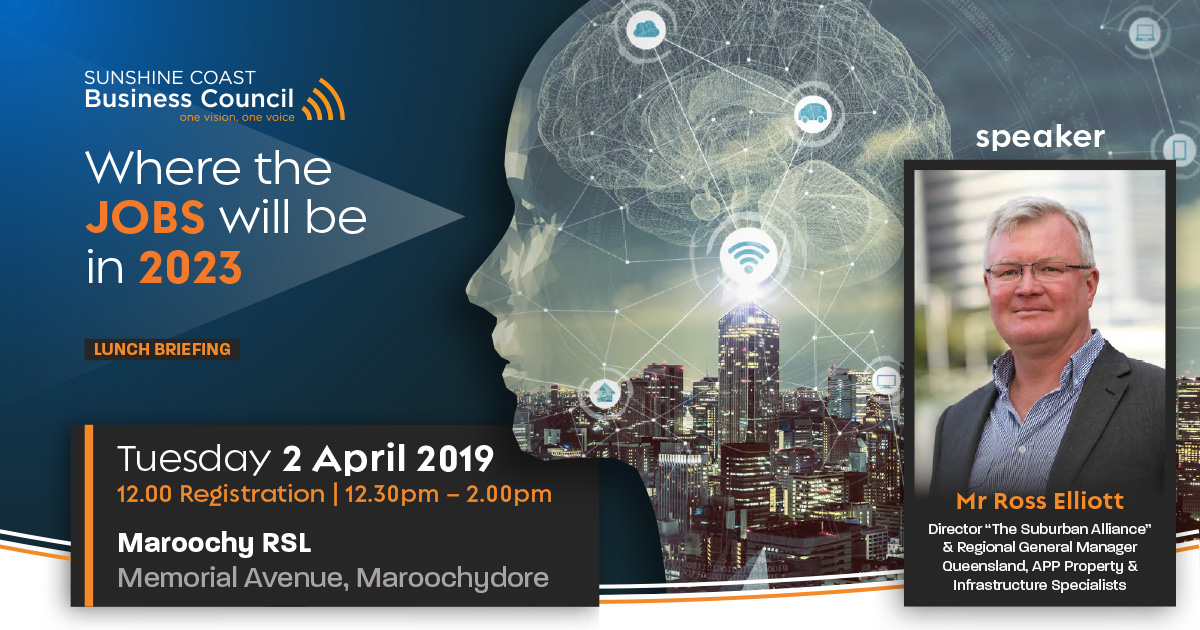 Lunch Briefing : Where the jobs will be in 2023
M3&M4 Ballroom, Event Centre, Maroochy RSL
Register by 12th March and save with early bird pricing.  Bring your clients, colleagues and business partners to understand what drives jobs growth and where this is likely to happen is essential to economics, demography, settlement strategy and efficient planning.

The figures realised by the Federal Government show an economy increasingly reliant on jobs growth in two major cities, but not in the city centres of those cities.  Even for the other major capitals, the predictions are for the bulk of state jobs growth to occur in the capital city of that state, but for a minority of the jobs in the capital city to occur in the city centre.

The figures endorse the need for urban infrastructure policies that provide equal priority to the infrastructure needs and place making enhancements of suburban and regional centres, just as they have done for city centres in the past.  This is just common sense.

So what does this mean for the Sunshine Coast Region?   Come hear our keynote speaker Mr. Ross Elliott how to address and understand these factors at the SCBC's Where the jobs will be in 2023 on Tuesday 2nd April, 2019 at the  Maroochy RSL....buy before 12/3/2019 and save - individual tickets plus corporate tables of 8!
Contact Details:
Kerrie Bryant-Adams, Event Manager on info@scbusinesscouncil.com.au or mobile 0402 215 560
This event is currently closed and no contact details are available