Mernda Steam Shuttles - Saturday 6 July 2019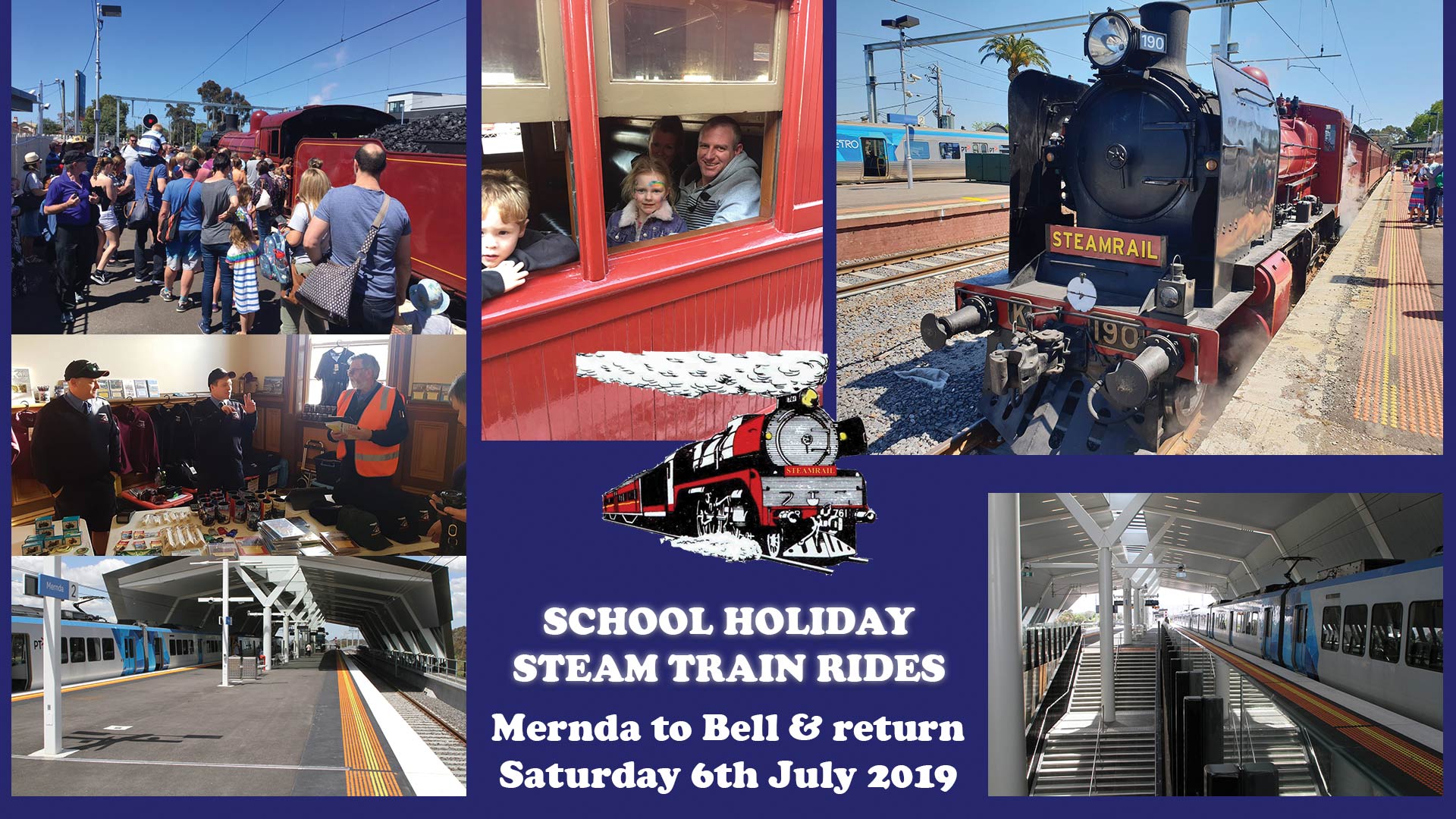 Join Steamrail Victoria as we operate 2 steam locomotives, A2 986 and K190, hauling our 100-year-old "E" type carriages along the newly reopened Mernda Line. This will mark the first steam train to travel to Mernda in at least 60 years  - The last time being before the line was closed in 1959. 

 
Come along on one of four steam hauled shuttles departing Mernda Station running to Bell and return, or choose to board the train at Flinders Street Station for the one-way journey to Mernda. Likewise you could spend the afternoon travelling with us back to the city. 
Mernda - Bell Suburban Shuttles
Return trips depart Mernda Railway Station at -
- 10:10am 
- 11:30am 
- 1:30pm 
- 2:50pm
Adults - $20. Children - $10. Family - $50. (2 adults and 2 children or 1 adult and 4 children).
These trips begin at Mernda and are return trips. Passengers will not be able to hop off or board the train at Bell.
Flinders Street - Mernda Transfers
Tickets are available to join us on our transfer trains to Mernda Station in the morning and return to Flinders Street Station in the afternoon.
The train will depart Flinders Street Station at 9:05am, arriving at Mernda at 10:03am.
The afternoon transfer will depart Mernda Station at 4:10pm and arrive back at Flinders Street Station at 5:10pm. 
Adults - $25. Children - $10. Family - $60. (2 adults and 2 children or 1 adult and 4 children).

* * * Note:  You should receive your tickets soon after you make your booking. * * *
* * * If they do not arrive, please check your Spam/Junk Mail Folders. * * *

 

Location

Mernda Railway Station.

Contact Details

Steamrail Victoria Inc. (03) 9397 1953 (Tuesday to Friday, 9am to 5pm only) info@steamrail.com.au
This event is currently closed and no contact details are available