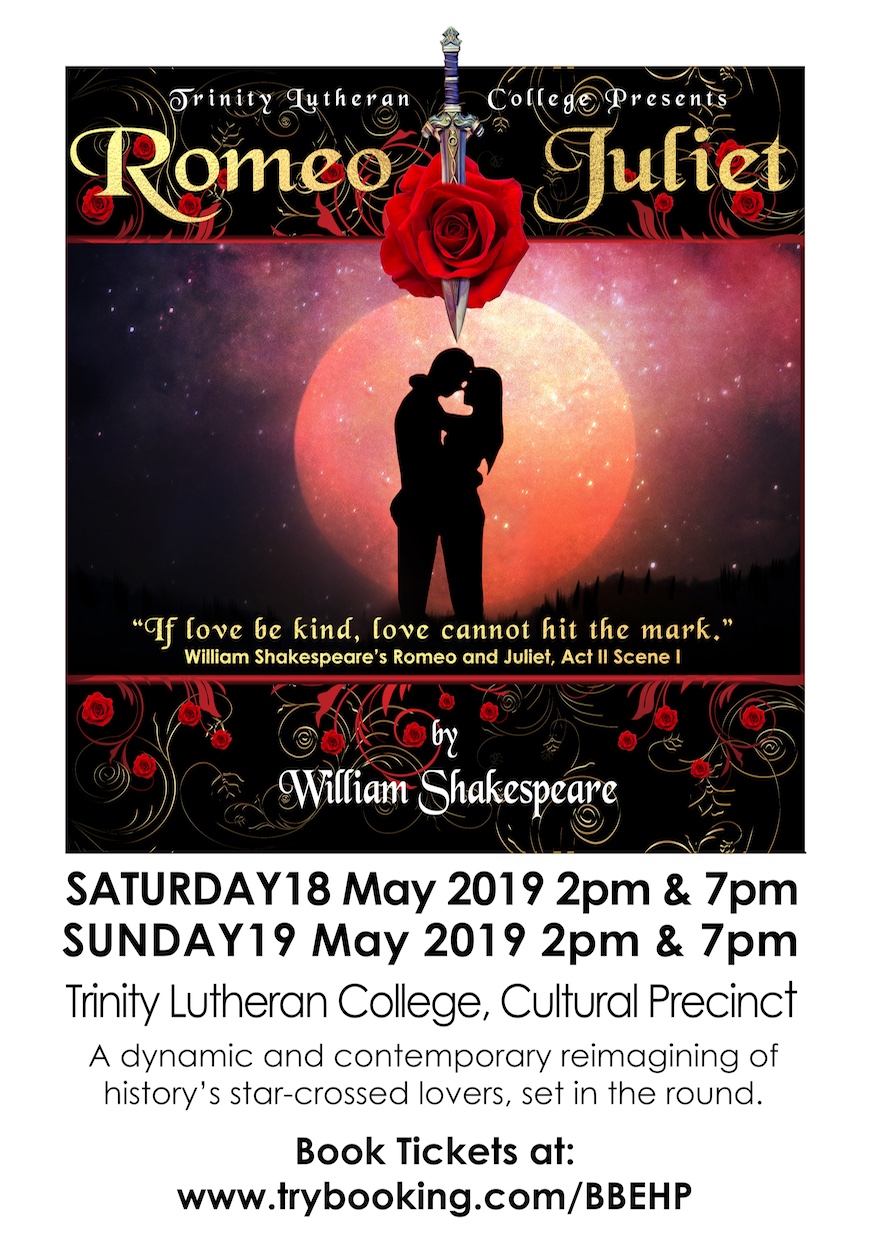 Dates:
Saturday 18 May 2pm & 7pm
Sunday 19 May 2pm & 7pm
Venue:
Cultural Precinct, Ashmore Campus, 641 Ashmore Road, Ashmore
Ticket costs: $25 adult and $19 child.
Trinity Lutheran College is proud to present a Shakespearean love story as old as time, ROMEO & JULIET, a dynamic and contemporary reimagining of history's star-crossed lovers, set in the round. 
Whilst this is a Shakespearean Tragedy, it is appropriate for younger audience members. It has been edited and some passages have been translated into 'modern' English so everyone should be able to access the story.
The Performing Arts support group will be providing Front of House support including light snacks and drinks (licensed).
Cast
Mantua Cast:  Saturday 2.00pm and Sunday 7.00pm
Romeo – Liam Pert
Juliet – Chelsea Burton
Friar Lawrence – Maxine Allwood
Lady Capulet – Sofia Graham
Balthazar (small role) – Alex Goninan
Verona Cast.  Saturday 7.00pm and Sunday 2.00pm
Romeo – Cooper Berger
Juliet – Ayla Edgar
Friar Lawrence – Sh'kinah Sidney
Lady Capulet – Eleanor Otley-Doe
Balthazar (small role) – Logan Harvey
All Shows
Nurse – Faith M-C
Capulet – Jonathan Willner
Paris – Jasper J-J
Tybalt – Finnlay Cross
Mercutio – Lily M-C
Benvolio – Jazlyn Simpson
Princess  - Katie Vanderpol
Supporting Roles
Andrew Ibrahim, Rachael McKinnon, Amy Furnell, Abigail McCallum,Tigerlily Bradbury, Mia Birtels, Kate Gleadhill, Ava Bizjak, Eva Scantlbury, Blake Thwaites, Jordy Hudson, Jayden Ogle, Natalia Sangunio, Bianca Stackpole, Ellie Dodkins, Rachael Thornby, Jade Tan, Dakota Smith.
This event is currently closed and no contact details are available