Ministry Matters: "Application that Sings and Stings"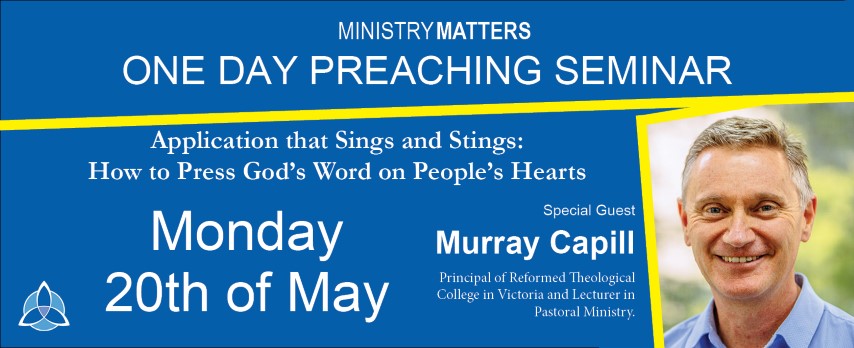 Description
If you are a preacher who wants to grow in your ability to communicate the word of God in an engaging and life-changing manner, you need to come along to our Ministry Matters Preaching Seminar - Application that Sings and Stings: How to Press God's Word on People's Heart with Murray Capill.

This event is for Pastors, Ministry Workers, Theological Students and Ministry Trainees involved in preaching and teaching roles. This full-day seminar will focus on application in preaching and includes a session where we will work on a recent talk we have given.

This will be a wonderful opportunity for those who preach and teach the Bible to be equipped and encouraged in their work.
The morning includes two sessions from Murray entitled Application: the Heart of Preaching, along with a Q&A time. After lunch, Murray will run a session entitled Application That Connects to Our Culture, and further time will be devoted to workshopping the recent talks brought by each attendee. Murray will end the day with a session entitled Going Deeper with your Application. The afternoon will also include input on making application helpful for women. 

Join our guest speaker, Murray Capill, as he explores this from Scripture.
Date & Time
20 May 2019
9:00am - 9:20am (registration and refreshments)
9:20am - 4:00pm (seminar, workshop, morning tea and lunch included)
Venue
Trinity House
Level 2, 632 Newcastle Street, Leederville, WA 6007
Registration
Early Bird Registration: $80 (closes 15 April)
Standard Registration: $100
Student Registration: $60 (Open to TTC degree students and ministry trainees)
Registrations close on 13 May
This event is currently closed and no contact details are available