Mackay Inflatable Boat Race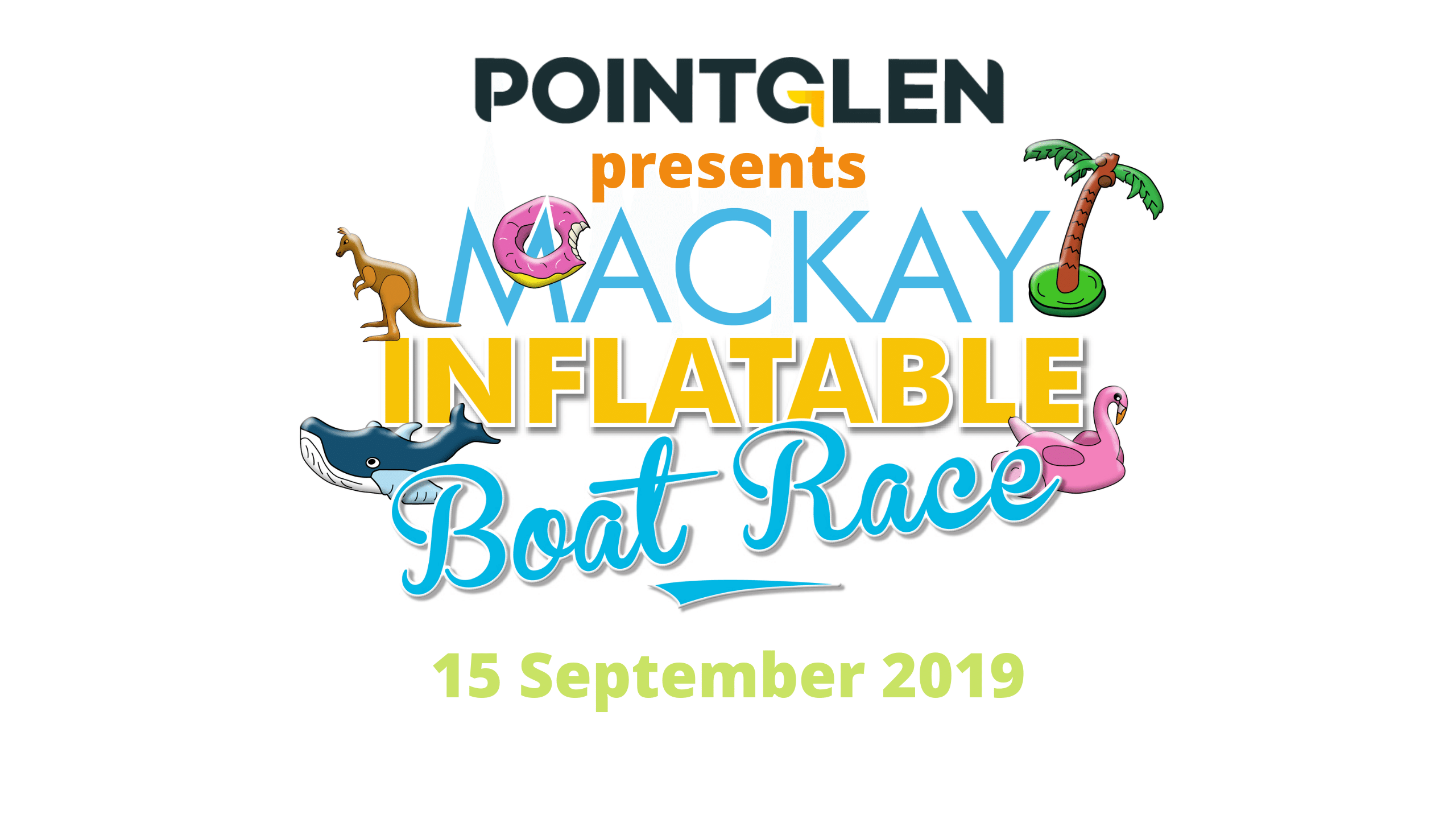 Join us for the Pointglen Developments - Mackay Inflatable Boat Race at the spectacular Eimeo Beach.
It will be full of fun & excitement for everyone. Dress up in fancy dress and paddle your inflatable around a short course. This is a charity fundraiser for the Eimeo SLSC and Tour de Cure.
Get in early space is limited. Register as an individual or as a team!
Strictly no hard boats.
On Sunday 15 September 2019 at 9:00am

Location
Eimeo Beach
Eimeo Esplanade, EIMEO, QLD 4740
EVENT DETAILS
Pump your inflatables from 8.30 am. There will be bacon and egg rolls and coffee for sale.

Junior Race (12 years to 18 years):  race starts at 10.00 am. Make sure you are on the beach at the start by 9.45 am. The Junior Course is approximately 400m along the beach. 

Adult Race: race starts at 10.15am. Depending on demand for the event there may be more than 1 race to ensure we meet water safety supervision requirements. The Adult Course is approximately 600m.

After Party Lunch! from 11.30am
WHAT YOU NEED TO DO
Pump up your inflatable! There will be a pumping station set up near the club house! Attend the registration tent, where your pre-registered details will be held. Check off the registration list (collect your wrist band).
All event times are subject to change, keep up to date by joining the Facebook page for the Mackay Inflatable Boat Race: https://www.facebook.com/mackayinflatableboatrace/.
There will be kids activities: waterslide. Please purchase a pass for each child. The pass includes lunch. If this event sells out, only children with pre-purchased wrist bands will be allowed on the entertainment (this is a safety issue).
WHAT ARE THE RULES?
You must read and agree to all terms and conditions of the Event.

Strictly no hard boats. Inflatable, soft plastic only.

Only power is by paddle! No motors. 

No minimum number per boat. More the merrier. 

You can enter as an individual but having friends makes it more fun.

Modified inflatables are subject to approval of the Events Race Director on event morning. If an inflatable is deemed unsafe then the vessel will be unable to enter the water and participants will be unable to race. No refunds will be offered in this instance.

It is a mandatory requirement that participants must wear highly visible sea-farer attire (eg. Sailor suits, formal wear, panda suits, pirates, super heroes, spacesuits are all encouraged).  You must ensure that you can float in your attire! At registration, if the check in crew do not think your outfit is visible enough, you will be supplied with a high visibility cap supplied by the event organiser. Failure to wear high vis sea-farer related attire OR a high visibility cap will result in race disqualification and/or exclusion. All outfits are subject to approval of the Event Race Director on event morning.

Water pistols are permitted.

Water balloons and the consumption of alcohol prior to and during the event is strictly prohibited.

Tomfoolery is encouraged, for example acts of piracy and poor co-ordination, however, at the sole discretion of the event organisers, staff, volunteers, agents and Lifesavers, a participant may, at any time, be excluded from the water and the race and unable to participate further (or at all) if the behaviour is dangerous to yourself or others.

Lifesavers will have the final say as to participation of under 18's on the day, depending on the surf conditions. The minimum age to participate in the inflatable boat race is 12 years of age. Student ID or some form of identification must be supplied. 

Children must be supervised at all times in the kids activity area and on the beach.

As this is a fun race: all disqualifications are final. If you are really worried, you can appeal the decision for a $100 donation to Tour de Cure with the Race Director! 
AFTER THE RACE
Join us for the After Party & Celebration from 11.30am - all entries include a sausage sizzle!
TERMS AND CONDITIONS: Participant Agreement
In consideration of and as a condition of acceptance of my entry and participation in the Mackay Inflatable Boat Race (Event) organised by Eimeo SLSC (Event Organiser) and Tour de Cure for myself, my heirs, executors, administrators and assigns I acknowledge and agree to the following:
(i) I have sufficiently trained for the Event, and am a competent swimmer. I am not aware of any illness, injury, physical disability or impairment which may be detrimental to my health while participating in the Event; and I enter and participate in the Event entirely at my own risk.
(ii) I agree to adhere to the manufacturer instructions for the inflatable vessel I will be using and will not exceed the total number of people that the vessel has been designed to hold.
(iii) Modified inflatables are subject to approval of the Event's Race Director on event morning. If an inflatable is deemed unsafe then the vessel will be unable to enter the water and participants will be unable to race. No refunds will be offered in this instance.
(iv) I waive all and any claims, rights or causes of action, which I may otherwise have for, or arising out of, loss of life or injury, damage to person or property of any description whatsoever, which I suffer or sustain in the course of or as a result of my entry or participation in the Event. This waiver shall be and shall operate separately in favour of all persons, corporations and bodies involved or otherwise engaged in organising, promoting or staging the Event.
(v) I wholly release and discharge the Event Organiser, their agents, affiliates, directors, contractors, employees, members, promoters, marshals, volunteers and any person or body directly or indirectly associated with the Event, from all claims, demands and proceedings of any kind arising out of or connected with my participation in the Event and I indemnify them (individually or collectively) against all liability for any claim, injury or damage is attributed to the act or neglect of any one or more of them.
(vi) I understand that entry fees are non-refundable for non-starters and non-finishers. All entries are non-transferrable. Fees will be processed by Eimeo Surf Life Saving Club and an item will appear on my statement showing funds being debited by Eimeo Surf Life Saving Club.
(vii) If the Event is cancelled for safety concerns or otherwise as a result of something beyond the reasonable control of the Event Organiser and without limitation strong winds, heavy rain, excessive atmospheric pollution, lightning and accidents, stingers, crocodiles, or any other Act of God, I accept that my entry fee and / or any other cost incurred in order to participate and / or get to the Event will be non-refundable. In addition, I acknowledge I will have no claim against the Event Organiser for any loss or damage I may suffer as a result of such cancellation.
(viii) I consent to the publication and / or use including by the Event Organiser in any form of media whatsoever of my name, race result, image, voice, statement or otherwise, including the publication of my name and / or event result and applicable age bracket in / or marketing materials / websites without payment or compensation.
(ix) I agree that ocean water activities have inherent risks, not all of which can be listed here. Among the more obvious and frequent are:
Exposure to extremes in weather than may cause injury due to heat/cold/tides/rain/wind and which may prevent or force route and itinerary changes;

Sunburn, sun-stroke and dehydration;

Marine stingers and other marine life which may lead to injury including serious injury or death;

Contact with and possible immersion under water for undetermined periods leading to possible suffocation or drowning;

Exposure to capsizing, sinking, trees, rocks, rope entanglement, current patterns and many other possible sources of 'in water' injury or entrapment;

Unfamiliar terrain and routes when participants could become separated from other participants;

Transport to and/from the event by public or private motor vehicle or other transportation means;

Being at a beach location where communication may be poor and there may be an inability to get rescue or medical assistance needed easily or quickly and that the risk of serious injury, harm or death may follow.
(x) I certify that I am 18 years or older, or that I am the parent/ legal guardian of the Participant who is under the age of 18 years, (and 12 years or older) and I have read this Participant Agreement and fully understand it. As a parent or legal guardian, I agree to this Participant Agreement for and on behalf of the Participant.
(xi) Privacy Declaration: This event is organised by the Eimeo Surf Life Saving Club and Tour de Cure.
(xii) The Event Organiser will collect and use and disclose personal information for the purposes of conducting and administrating the Event and other related activities, including for identifying participants, recording results and communicating with participants, and for providing participants with promotional materials for other events or sponsor offers.
(xiii) Applications or services may be rejected if requested information is not provided.
(xiv) I have read all terms and conditions of my participation in the Event, including the conditions set out in this Participant Agreement above about publication of my name/image, compliance with directions/by-laws, limitation of liability, disclaimer, indemnification and other matters as are set out in the on-line registration site viewed by me and I accept and intend that I be legally bound by these terms and conditions.
Mackay Inflatable Boat Race
Make a booking, click below
Resend tickets to your email address.
Contact the event organiser.
You can review the event organiser's terms and conditions here.
Mackay Inflatable Boat Race
You can review the event organiser's terms and conditions here.
If you can't find your tickets, click here.
Your email has been sent.
The organiser will be sent the details of this message.

Sorry, there appears to have been an error. Please try again later.