Join us on a journey of learning, personal development and fun as we come together to explore the Art of Connection at the 2019 National Conference - there will be something for everyone interested in energy therapy.
Optional extras include a morning tea cruise, yoga or Tai Chi session or a garden walk.
Alongside the speakers and activities listed in the conference brochure will be more surprises and opportunities to make new friends or reaquaint yourself with old friends.
DATE: 1pm Friday 13th Sept to 3pm Sunday 15th Sept (check in from 12pm)
LOCATION: Port Pacific Resort
14 Clarence Street, Port Macquarie, NSW 2444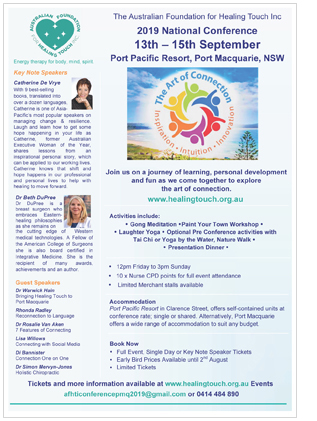 KEYNOTE SPEAKERS:
* author Catherine De Vrye (Sat Sept 14, 11am)
* surgeon Dr Beth DuPree (Sun Sept 15 10.30am)
Other conference speakers include Dr Warwick Hain, Anjilkurri Rhona Radley, Dr Rosalie Van Aken, Lisa Willows, Di Bannister, Dr Simon Mervyn-Jones.
ACTIVITIES INCLUDE:
* Gong Meditation   *Paint Your Town Workshop  * Laughter Yoga
ACCOMMODATION OPTIONS:
onsite at Port Pacific Resort; alternatively Port Macquarie offers a wide range of accommodation to suit any budget
BOOK NOW (limited tickets)
Select a Full Event Registration ticket to attend all conference sessions. Single Day and Keynote Speaker and Lunch tickets are also available, plus Dinner Only tickets for partners/guests and Single Day conference attendees.
Early bird prices until August 2, 2019.
Go to www.healingtouch.org.au for more information and to download a copy of the conference brochure.
Click on the link below to contact the CONFERENCE COORDINATOR.
AFHTI 2019 National Conference
Make a booking, click below
Resend tickets to your email address.
Contact the event organiser.
You can review the event organiser's terms and conditions here.
AFHTI 2019 National Conference
Contact phone: 0414 484 890
You can review the event organiser's terms and conditions here.
If you can't find your tickets, click here.
Your email has been sent.
The organiser will be sent the details of this message.

Sorry, there appears to have been an error. Please try again later.