Speakeasy Casino Night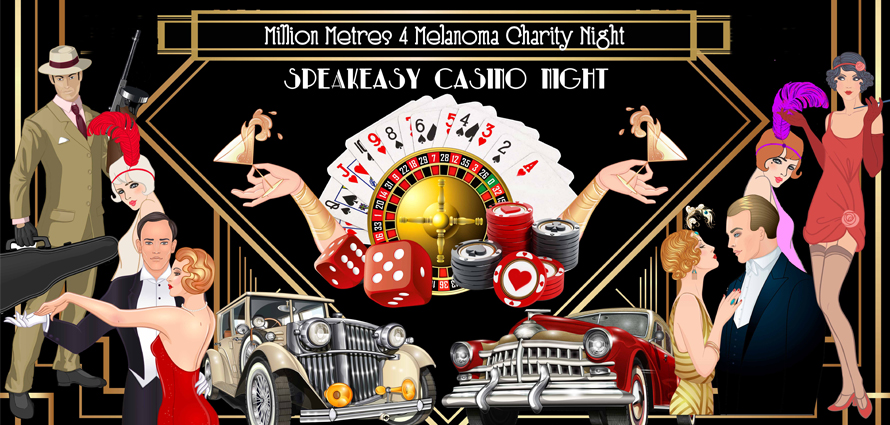 Million Metres 4 Melanoma Charity Night

$60 per person includes $500 Mob Money, cocktail on arrival and 3 hours of Casino fun. Additional $20 to enter the Poker Tournament (only 16 seats available). Raffles on the night.
- Casino open from 7:00pm to 10:00pm
That BBQ Joint (Food Truck) available to purchase food on the night from 6:00pm to 9:00pm
ROUND UP YOUR FLAPPERS AND DAPPERS AND BRING BACK THE ROARING 20s FOR OUR THEMED EVENT!
Location
Lightspace
2 Scanlan Street, Fortitude Valley, QLD 4006
Contact Details


HOW THE CASINO WORKS
Its Prohibition time, remember? You will need a password to get into the casino to keep the Feds out .This Swanky Juice Joint casino is open for 3 hours and each guest will receive $500 "Mob money". The "Mob money" is provided prior to the start of the casino opening (upon entry to the event). When the casino opens you may redeem your "Mob money" for casino chips at the table of your choice: Black Jack, Roulette, Craps, Texas Hold'em (Poker), Money Wheel or Sic Bo. 
PLAYING
Play begins once you have exchanged your "Mob money" for casino chips at the table. The tables will have a minimum wager of $25 and if you do not know one's onions, the friendly Croupiers will be happy to "give you the goods" to ensure everyone learns, has a nifty time, wins some heavy sugar while drinking giggle water or moonshine ... but just make sure your don't get the heebie-Jeebies!

RUN OUT OF DOUGH?
Don't worry! The Mob can help. If at any stage you require more chips you can purchase additional "Mob money" from the Mob. All additional "Mob money" purchased will count towards the funds raised during the evening for Million Metres 4 Melanoma. Additional "Mob money" can be purchased @ $10 for $500 Mob money or $20 for $1,500 Mob money.

ENDING
Approximately 15 minutes prior to the closing of the casino, the Casino Manager will call "Last Hand". The wager ends and you will turn in your chips at the gaming tables. The Big Cheese, doll, moll, dapper or fella with the highest amount of winnings will be presented with a "High Roller" trophy award (for bragging rights).
POKER TOURNAMENT
For those experienced  Poker Players  a "High Roller" Poker Tournament will be held on the night. If you wish to take part, an additional ticket will need to be purchased for the Poker Tournament "Buy-In price of $20". ONLY 16 SEATS AVAILABLE.  Please purchase a Poker Tourament ticket when purchasing your General Admission ticket. Will you be the Poker Champion? Poker Champion will receive a prize. Tickets available through trybooking.com
SPONSORSHIP
We would be greatful for any sponsorships for the night. Two sponsorship packages are available.

Premium : $500 (12 available): Sponsorship of the Casino tables ($500 per table) which includes two free tickets to the charity night. Casino table sponsorships are a great way for businesses to showcase and promote their services. As a sponsor you can display signs about your business at the table as well as provide promotional items or small prizes to be handed out (for example pens can be given away to anyone who is dealt a black jack). 
Standard : $100 (4 available): Have your company logo on the  "Mob Money" for the night. Sponsorship of $100 which includes one free ticket to the event.
FOR SPONSORSHIP PACKAGES PLEASE CALL KIRSTY TAYLOR 0400 083 267 or RENEA HOWELL 0409 614 654
* Tickets and sponsorship include GST *
This event is currently closed and no contact details are available