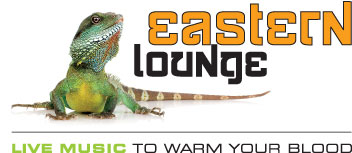 SHOW: 
9 August 2019, 8:00pm
THE MEZCALTONES + BIG SKY MOUNTAIN
TICKETS:
$15 – Child (12 yo and under)
$35 – Adult (13 yo and above)
VENUE:
Eastern Lounge
Club Willoughby
26 Crabbes Ave
North Willoughby NSW 2068
INQUIRIES:
David Keogh
0402 153 894
info@easternlounge.com.au
www.easternlounge.com.au
NOTES:
1. Only Mastercard and Visa credit cards accepted.
2. A small transaction and admin. fee of $0.50 per ticket will be charged.
3. You may select your table and include the names and e-mails of your guests.
4. If you do not know the names or e-mails of your guests, you can leave them blank.
5. If you're not able to fill a table, that's okay. That table will be shared with other attendees.
This event is currently closed and no contact details are available