QSBW - Getting it "OUT THERE!"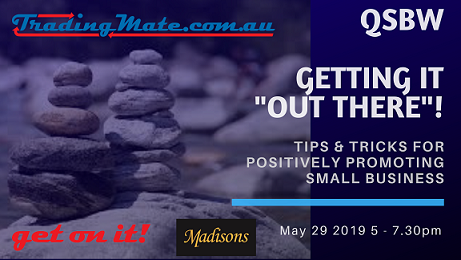 Our very own expert Trading Mate member presenters are going to give us the lowdown on
the importance of positively branding, marketing & presenting our businesses
for the best results in this very competitive, visually based, marketing age!
Our Presenters:
Social Media Marketing - Renee, Social Butterfly Marketing "Savvy social media marketing for business"
Printing & Graphics - Steve & Andrew, Cardzilla "Choose a professional designer and printer as SIGHT is the main sense used in making decisions; what is seen is critical to your success"
Networking - Una, Right-hand MAM! & Bill, Right Hand Mate "the Good, the Bad & the Ugly of face-to-face Networking"
Business Branding - Jill, Simply Hampers "It's YOUR business…so DARE TO BE YOU!"
Website - Mark, Web Zulu "Website Personalisation - How to Convert Website Visitors into Customers by Creating Unique User Experiences.
External advertising – Jules, Oasis Media "Don't have the big bucks to spend on your business? No worries: Here's some marketing tricks for small businesses working on a small budget"
Video Marketing - Jenn & Colin Modmarketing "Your Must-Have 2019 Video Strategies"
SEO - Cathy, EORTH "Boost your Search Rankings Organically - Would you like to see more traffic on your website without paying for Facebook or Google Ads?"
Photographer – Veronica, Blueclick Photography
Guest MC - Gio, Go! Empower
Proudly supporting the CBWC fundraising efforts for "Share the Dignity"
as our non-profit organisation, recipients of our raffle ticket sales for this event.
Please feel free to contribute a business prize for the raffles!
Light refreshments included and your first drink is on us :)
BRING A MATE FOR FREE! Brand new Non Trading Mates are welcome - one free admission per $22* member - $27.50* non-member ticket & as always $11 2nd person same business
New Trading Mates, you get a FREE ticket to join us for your first event as members!
When: Wednesday 29 MAY 2019
Where: Madisons Function Rooms, upstairs at The Red Beret, 411 Kamerunga Rd, Redlynch
What time: Registration & networking from 5pm, presentations from 6pm
Contact Details
Jodi Allen 0412 862 833
This event is currently closed and no contact details are available