The Centre for Educational Enterprise presents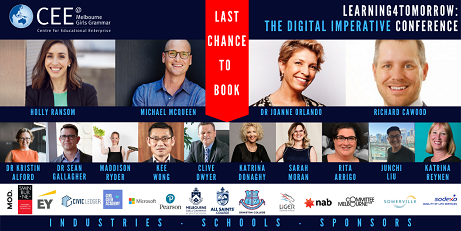 OVERVIEW

How educators design and organise learning for the future and to empower students to flourish in a rapidly changing world.
The Focus
The rapid digitisation of the world and the moral imperative to transform educational practices to prepare our students for a future in which they can fully embrace the enormous challenges and opportunities which may present themselves.
The Why
Technology is embedded in everything we do, rapidly altering and improving the ways we live, work, connect, experience and understand the world. The changes are global across geopolitical and socioeconomic boundaries. Technology as an element of our interactions comes not only with the opportunity to change the world for the better, but presents ethical dilemmas of the future of work and what it means to be human.
The Challenges
In this current context, education, industry and government are faced with many questions. What are the skills and attributes that are required of the learner for the future? How can we integrate emerging technologies in meaningful and purposeful learning experiences? How does the paradigm of education need to change to remain relevant and future focused? What opportunities exist for connection between industry, tertiary and secondary education?
Endorsing Partner

CEE is proud to announce our CEE19 endorsing partner is Committee for Melbourne, an apolitical, not-for-profit, member-based organisation that brings together over 150 organisations from Greater Melbourne's business, academic and community sectors, which share a common vision to make Melbourne a better place to live, work and do business.
To ensure Melbourne can continue to thrive and remain a city of international significance as we experience the challenges and opportunities of the Fourth Revolution, Committee for Melbourne have established the Melbourne 4.0 Taskforce to help prepare Greater Melbourne for the accelerating speed of innovation and disruption that has catapulted us to the early stages of the 'Fourth Industrial Revolution'.
Sponsors
VENUE:
NAB Docklands
700 Bourke Street
Docklands, Victoria 3008
This event is currently closed and no contact details are available