Storytellers NSW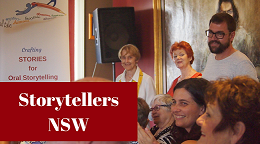 For us at Storytellers NSW, stories are told, rather than read aloud or shown on a screen
Storytelling is what happens when a story is told, face to face, eye to eye, mind to mind, heart to heart. The story is intimately known by the teller, spoken aloud, and shared, like a gift, with the audience. Known as the narrative oral tradition, storytelling is our first literacy.
We invite you to join us and experience this oldest and living art form.
The Storyteller's Gym
The Storyteller's Gym Connecting Mind and Body for Creativity, Flexibility, and Compelling Communication with David Novak Usa.
This workshop presents a series of "storytelling workouts" focusing on different aspects of the storyteller's mind and body including: breath control, physical and vocal flexibility, and mental agility.
At the end of the workshop, participants will be able to • Hone skills with a variety of skill-building exercises; • Examine stories from new perspectives; • Be mentally and physically ready for performance; • Improve creative thinking and problem-solving.
The Storyteller's Gym was developed at East Tennessee University as a regular workout for graduate students in Communication and Storytelling in order to identify specific physical and cognitive skills required for effective story invention, interpretation, and presentation. These skills incorporate: • breath support, • physical limbering, • thoughtful articulation and vocabulary development, • playful problem solving, • imaginative exploration of stories, • creative agility for story invention.
David Novak tells stories to enhance learning, engage emotion, and find common ground. A performing and teaching artist with North Carolina A+ Schools, National Storytelling Festival, schools and stages across the nation. David's international tours include China, Australia, New Zealand, and the Czech Republic. A recipient of the Circle of Excellence from the National Storytelling Network and formerly Master Storyteller for The Disney Institute. David lives in Asheville, NC, and is a published author and recording artist.
Location
Sydney and regions
Contact Details
Lindy Mitchell-Nilsson
info@storytellersnsw.org.au
This event is currently closed and no contact details are available