TEA WITH JAM AND CLARE - with Clementine Ford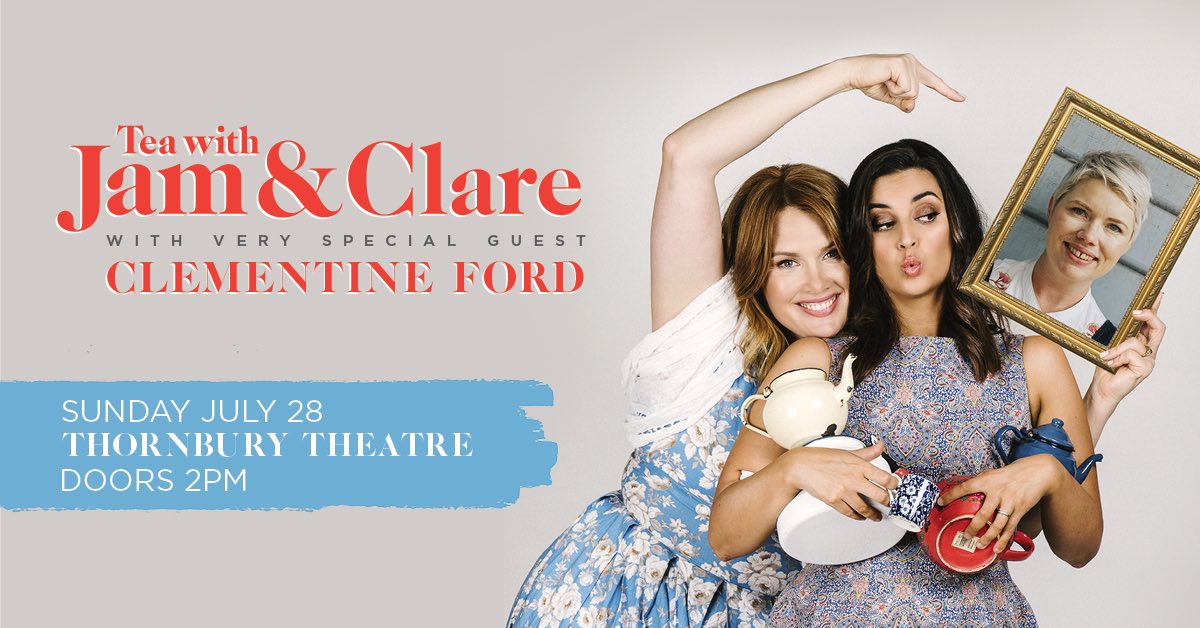 Join Jamila Rizvi and Clare Bowditch for an afternoon of honest conversation and song, with author and feminist warrior Clementine Ford. Together our crew will explore themes of audacity, vulnerability and having the courage to stand up for what you believe, in a patriarchal world.
Clementine is the author of bestselling books Fight Like A Girl (2016) and Boys Will Be Boys (2018). She was the recipient of the Matt Richell Award for Best New Writer of the Year at the 2017 Australian Book Industry Awards. Generally, she is quite disliked by Men On The Internet and equally admired by feminists of all genders. 
Clare, Jamila, Clementine each promise to bring the best of themselves for this hilarious, outrageous, feminist and theatrical event.
There will be personal truths laid bare, difficult questions posed and moving provocations offered. Plus, Clare will bring tunes to delight, inspire and fire you up for a fight (yep, like a girl!)
Tea with Jam and Clare will be held at the Thornbury Theatre on Sunday July 28 where the seats will be cosy, the tea will be sweet and the room warm and welcoming.

About Tea with Jam and Clare
Tea with Jam and Clare begins with a provocation from Jamila Rizvi, where she will speak about the intersections of vulnerability and courage for modern feminists. Next, Jamila will be joined by co-host Clare Bowditch to interview author Clementine Ford. Finally, Clare will lead the room in an uplifting group singing adventure especially designed for people who - when they think of singing in public - do a little wee in their pants.
This event promises to leave you feeling even better than when you walked in.

When: Sunday 28th July
Where: Thornbury Theatre
Time: 3pm - 4:30 (Doors at 2pm)
Cost: $45 / Concession / Group of 4 or more: $35
Tea by Calmer Sutra Tea
Stage Plants by Hello Botanical
Outfits by Obus
This event is currently closed and no contact details are available