WFSC's Promote your Book on a Budget (2 days)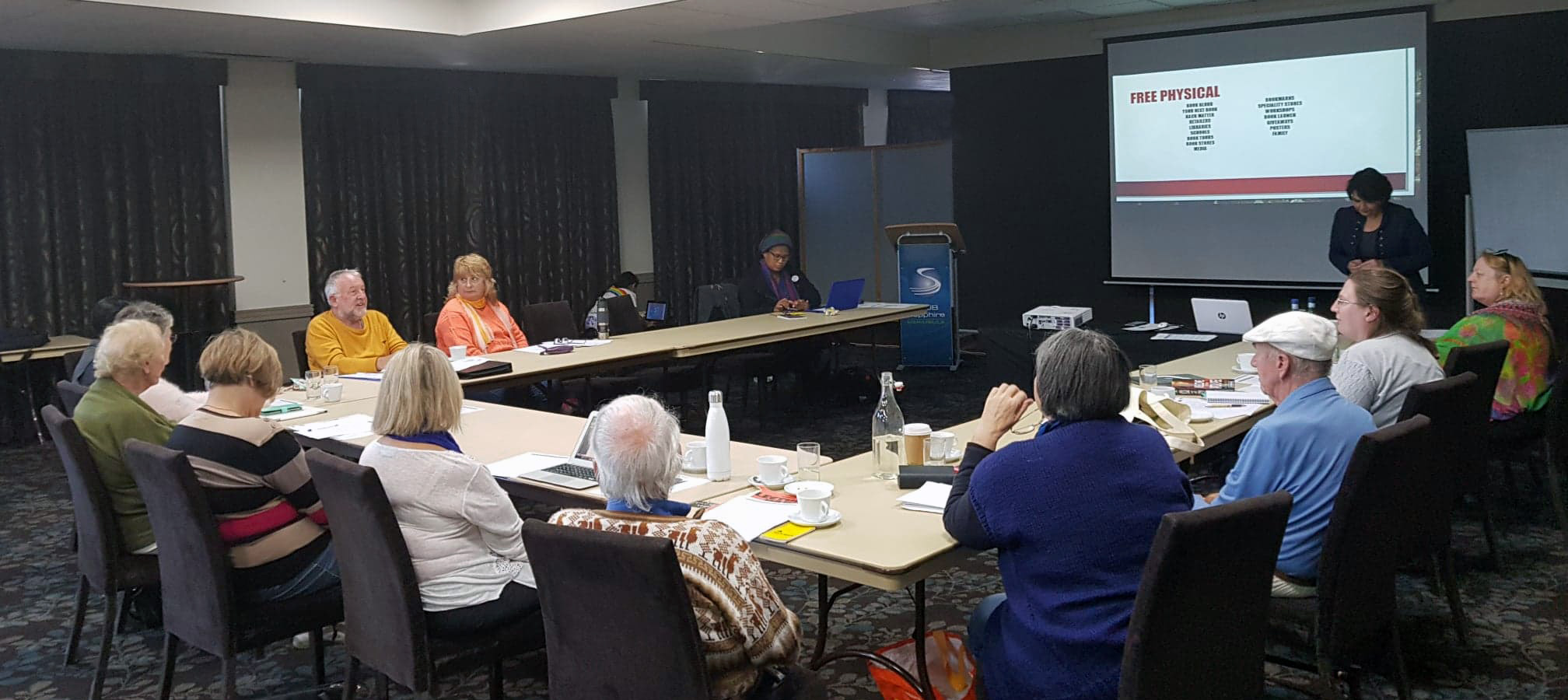 This workshop has been postponed to later in the year due to insufficent bookings.
Following on from Debbie Richardson's earlier (but shorter) workshop on the 18th May, the Writers of the Far South Coast (WFSC) are offering limited places to a weekend intensive to delve into the nitty-gritty of self-promotion providing far more detail, examples and hands-on opportunities to level-up your own promotion skills.
Workshop tickets are required to be purchased in advance.
Space is limited to 10 participants.
Note: If insufficient tickets sales are made prior to the event, the two day workshop will be cancelled and all ticket purchases refunded in full.
Thank you to everyone who attending the "Promoting on a budget" session.
Marketing is about getting your book into the hands of readers. And when there are 2 million books published every year, many of these self-published, it can be hard to get your book noticed. Not even the traditional publishers  will do half of what I shared with you until you start earning them money.
There was so much information to cram into the two and a half hours (in fact 10 years worth of information!) that I could not possibly have gone through any of the "how to" in detail. My goal was to give you as many tools as I could to help you promote. So if you're bamboozled by the babble, daunted by the information overload, or trying to make sense of your notes and my handouts, I'm pleased to announce that I'll be returning for 2 full days to go through all of these promotional ideas in detail. You can come for one day or two, but I hope you can come for both days because this is valuable information to help you achieve your goals.
 
There are readers out there waiting to buy your books. But you need to go to them. You'll come away with a real plans to promote your current book and your next book, and you'll get a look at all of these sites so you can set up your own accounts.
Saturday morning session - Book launches and tours
Set up a virtual book launch and/or tour with bloggers
Set up a physical book launch and/or tour
Pre-release promotion
Interviews and press releases
Setting up reader/fan events and ways to promote them
School, libraries, special events - where to find them
Ways to get reviews even before your book is released
Saturday Afternoon session - Online retailers and Ads for authors
Setting up your online retail presence at Amazon, Kobo, Smashwords, Barnes & Noble, etc
Create ads on Amazon, Facebook, Blog sites, Bookbub
Promoting in magazines and newspapers - where to find them
Promoting you and your book on blog sites - where to find them
Author services that can do all this for you
Sunday morning session - Gaining followers
Tackling social media sites such as Facebook and Twitter
Building a newsletter following
What to write in a newsletter
How to use Goodreads, Bookbub and Amazon author pages
Author website and blog site
Ways to let your readers know about new releases and special promotions
Setting up an online giveaway
Giving away sample chapter
Sunday Afternoon session - Book cover, book blurb, and back matter, SWAG, and your next book
How to write a book blurb that excites readers
How to find the best cover and book title
Where to find pre-made affordable covers
How to contact a cover designer to create a specific cover
Author services that set up your book for you
What information to include in the back and front of the book
SWAG  - bookmarks, flyers, cups, pens, trinkets
Other promotional material such as posters, banners
Your next book and how to start promoting it now
Reviews of Debbie's RECENT workshop held on the 18th May 2019 in Merimbula, NSW.
"Excellent presentation. Extremely detailed informative workshop. Gave so much information as to where to source avenues for sales, promotion etc. What appeared overwhelming, daunting in its initial stage soon became an enlightening as to how many different options are available."
– Leigh
"Great presentation. Lots of useful information previously not aware of. Helped me see the way books can be promoted using an array of methods."
– Kate
"Yes very good thank you."
– Bernadette
"Yes, A1. Very interesting. Thank you."
– Val
"Very informative and interesting, would like further workshops to follow on with this info. Like the way Debbie provided info sheets too! Lots of things to remember so it helps to have the info sheets. Learnt lots. Debbie is very passionate about her writing and books."
– Lorraine
"High velocity words and the information which came with those words. Lots of ideas that are very useful for my future promotions. Lectures like this show me how little I know."
– Geof
"Inspired to try new ideas to promote my book. Lots of information. Plenty to think about in planning for my next book. Thank you so much Debbie for sharing today."
– Gabrielle
"Very interesting, informative, inspiring. But lots of talking."
– Peter
"Amazing info, made my head spin!"
– Anne
"Picked up many handy hints to promote books. How to stay current. Learnt so much more about online distributors such as Amazon. Lots of information. Need to sift through the brain matter when I go home."
– Denise
"Introduction to publishing in the big wide world of the written word. So much to absorb, heaps of new information. We are all storytellers marketing in another world."
– David
"So many free or cheap avenues to explore. I'm a little bit time-poor but Debbie also made it enticing to find a virtual personal assistant or when I publish, now I know which hoops my publisher should be jumping through."
– Amanda
"Good presentation. Very engaging. Great content. Notes very helpful. Thank you."
– Marna
LIMITED TO 10 SPACES
Location
To be determined
Merimbula, NSW 2548
Contact Details
Writers of the Far South Coast (WFSC) are an inclusive, non-profit writers club that has been around since 1981. Our members are from all walks of life, young and old, men and women, published and unpublished, who meet regularly to support each other's writing goals.
Volunteer members on the WFSC committee understand the unique hardships of living in a rural area. Their efforts go above and beyond, on a shoestring budget, to nurture the talents of local authors and provide reasonably priced, professional development opportunities, here on the Far South Coast of NSW, in the Bega Valley Shire. 
This event is currently closed and no contact details are available