Benefactors Chakra Shuddhi (Purification) Extended Retreat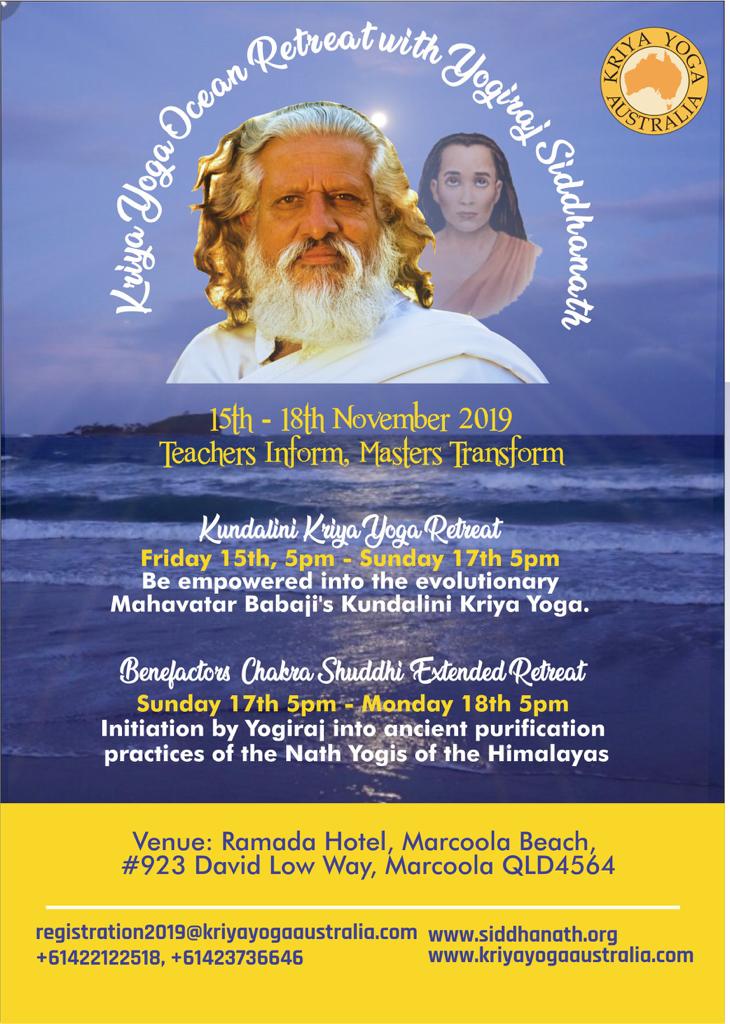 Benefactors Chakra Shuddhi (Purification) Extended Retreat with Yogiraj Siddhanath in Sunshine Coast
A more personalised time with Yogiraj Siddhanath in a smaller group setting. Learn exclusive ancient yogic techniques of the Nath lineage directly from the Master. This retreat is open to everyone, you dont have to be Kriya Yoga practitioner to participate in this retreat.
Techniques include
1.     Chakra Chitta Naadi Shuddhi: A practice that transforms the three gunas/humours of vata, pitta and kapha to Livingness, Light and Love, through many layers of refinement. An alchemical process of transformation practiced by the Nath yogis of the Himalayas.
2.     Beej Akshar Vivar: The subtle practice to balance, activate and purify the chakras for speedier healing of our physical, emotional and mental body. Once again from the repertoire of the Nath Yogis of the Himalayas.
3.     Dreamweaver: Special and unique to Yogiraj Siddhanath, wherein he, at the dream stage, repairs the mental, astral and deeper causal levels those who are unable to progress due to physical or mental blocks. As Healing and Love he gently repairs these debilitating qualities so the seeker may flower into the likeness of their own true Self.Fee: AUD 1000  Payment plans available. Please email us for more informaton.
Duration: From 5PM on Sunday 17th November 2019 to 5PM on Monday 18th of November 2019
Venue: Ramada Hotel Marcoola Beach
For further enquiries email: registration2019@kriyayogaaustralia.com
Or call
Altaf: 0422 122 518
Subu: 0423 736 646
Retreat Travel Options - Getting to the Venue
Retreat Location – Ramada Hotel Marcoola Beach, #923 David Low Way, Marcoola QLD 4564
Option 1 – Sunshine Coast Domestic Airport
Sunshine Coast Domestic Airport is 2.5 km away Ramada Hotel at Marcoola Beach. It is 4 mins drive by Car from airport to hotel or 11 mins by train from airport to hotel.
Option 2 – Brisbane International or Domestic Airport
Brisbane International or Domestic Airport is 110 km away from Ramada Hotel at Marcoola beach. It is roughly 1.5 hours' drive by Coach or Car, 2 hours by Bus or roughly 4 hours journey by train. It is advisable to Book a Coach from Brisbane Airport to the Retreat location as it would be the most convenient and cost effective option for travel. Below are some of the websites to arrange the coach.
https://www.sunair.com.au/bookings/airport-transfers
https://www.airshuttle.com.au/
https://www.con-x-ion.com/app/web/transfer?id=31e2895d-7021-4fe0-b825-8afd239a126f#options
https://www.rome2rio.com/s/Brisbane-Airport-BNE/Sunshine-Coast
Location
Ramada Hotel and Conference Centre
923 David Low Way, Marcoola, QLD 4564
This event is currently closed and no contact details are available