NICA's Pre-Audition Workshop in WA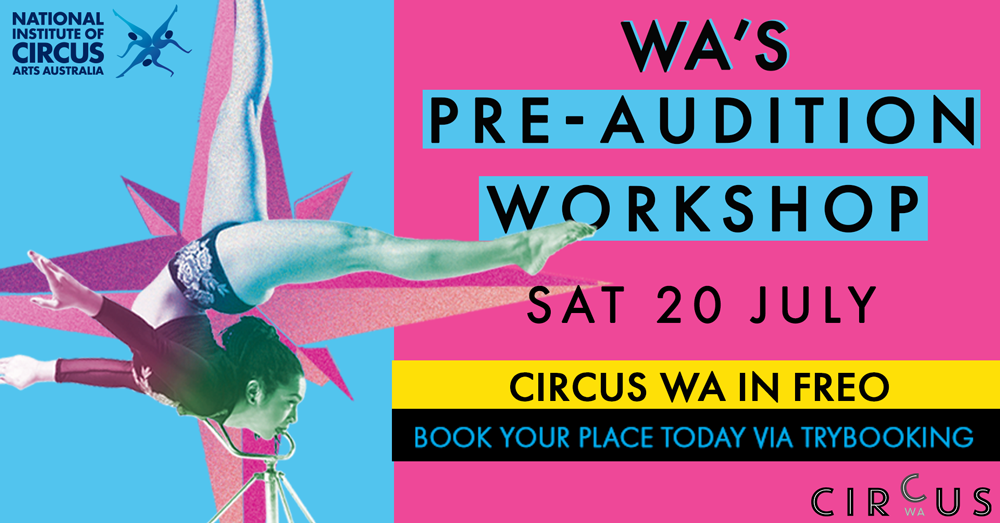 Get tertiary qualified with the National Institute of Circus Arts and set yourself up for a career touring the world!
Considering tertiary circus study? NICA's Pre-Audition Workshop is your first step towards a successful audition for Australia's only Certificate IV or Bachelor Degree in Circus Arts. This Workshop is great for prospective 2020/21 students to get feedback on their progress at an early stage. NICA's Audition Panel also reports that applicants who attend the Workshop display higher confidence in their audition.
This event is not just for those with circus experience: NICA is also seeking people with backgrounds in gymnastics, dance, calisthenics, theatre, physical theatre, fire twirling, martial arts, tricking, parkour and more.
The workshop is hosted by CircusWA in conjunction with NICA. Your trainer for the day will be NICA graduate/CircusWA trainer Isaac Saleh in consultation with James Brown, Head of Circus Studies at NICA.
The itinerary for the day:
Run through the skills that will be required in audition and how to present them in the right way

Hear tips and tricks for creating a performance act

Receive feedback on your progress and suggestions for training

Gain familiarity with the space and the facilitators

Meet your potential cohort of peers and enjoy a fun and challenging day of preparation
Above images of the 2018 Pre-Audition Workshop taken by The Age Newspaper

Ask your questions of the experts, such as:
 
What is the Audition Panel looking for?

What areas do I need to work on with my fitness and skills?

How do I make my performance act unique to me?

How do the specialties work and how do we choose which apparatus I'll be training at NICA?

What are the course hours?

How does NICA assist with post graduation industry contacts?

How should I be training to make it sustainable and safe?

Important Notes
 
This event is for ages 15+.

NICA understands that students will have different skills levels in different areas, but it is recommended that participants are already proficient in at least some of the following: tumbling, handstands, handsprings, cartwheels. Please give us a call if you are unsure about attending.
Please note NICA will also be running a workshop as part of the National Training Program (NTP) at the Flying Fruit Fly Circus, for participants of the NTP as well as
two workshops
at NICA in Melbourne. 
Don't forget to also sign up for NICA's
Inside Track
mailing list - THE mailing list for prospective NICA students.
Course codes: BA-CIRCA1 / 10111NAT      CRICOS provider code: 00111D       CRICOS course code: 078080F
WHEN
Saturday 20 July
9am - 5pm with an hour lunch break
Location
CircusWA
Circus Big Top Tent, 92 Adelaide Street, Fremantle WA 6160
Looking for the Melbourne Workshop? Click here
BESbswyBESbswyBESbswyBESbswyBESbswyBESbswyBESbswyBESbswyBESbswyBESbswyBESbswyBESbswyBESbswyBESbswyBESbswyBESbswyBESbswyBESbswyBESbswyBESbswyBESbswyBESbswyBESbswyBESbswyBESbswyBESbswyBESbswyBESbswyBESbswyBESbswyBESbswyBESbswyBESbswyBESbswyBESbswyBESbswyBESbswyBESbswyBESbswyBESbswy
This event is currently closed and no contact details are available