NGAA National Congress 2019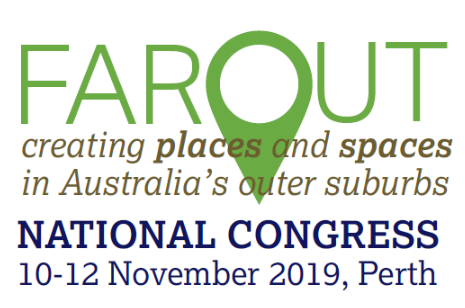 From November 10-12, the National Growth Areas Alliance (NGAA) will present its National Congress in Perth's Swan Valley. Featuring expert presenters, panel sessions and workshops, the Congress will focus on creating places and spaces for people in Australia's fast growing outer suburbs. The program will inform and inspire with ideas and approaches that are out of the ordinary – but necessary to meet the extraordinary challenges we face.
PROGRAM HIGHLIGHTS
International Keynote Speaker - Ethan Kent (Project for Public Spaces)


National Keynote Speaker - Romilly Madew (Infrastructure Australia)
Expert presenters, panel discussions and Q & A sessions
Welcome Function
NGAA Awards Dinner
On-site case study at the award-winning Midland Railway Workshops
From Sunday 10 - Tuesday 12 November, 2019.
LocationS
Sunday 10 November
Welcome Function - Mandoon Estate
10 Harris Road, Caversham WA 6055
Monday 11 November (Day 1)
NGAA AGM and Congress - The Vines Resort
Verdelho Drive, The Vines WA 6069
NGAA Awards Dinner - The Vines Resort
Verdelho Drive, The Vines WA 6069
Tuesday 12 November (Day 2)
Strategic Planning Workshop - The Guildford Hotel (MEMBERS ONLY)
159 James Street, Guildford WA 6055
Site Tour - The Midland Railway
Victoria Street, Midland WA 6056
TICKET STRUCTURE
In addition to the Full Congress ticket option, tickets for the 2019 National Congress can also be purchased as individual and distinct categories. Please only purchase a Full Congress ticket if you intend on attending all events across the three days. There is no advantage in purchasing the Full Congress ticket unless you plan to be present at all events, so if you only wish to attend specific components of the Congress, please purchase individual tickets to these days and sessions.
Ticket categories include:
Full Congress (access to all events across Nov 10-12)
Welcome Function - Nov 10
Congress - Nov 11 (includes a breakfast AGM for NGAA Members)
NGAA Awards Dinner - Nov 11
Strategic Planning Workshop (Members only) - Nov 12
Site Tour - Nov 12
All Officers employed by NGAA's Member Councils qualify for the Member Discount ticket prices (available until Aug 31) as well as having access to attend Member Only events, including the NGAA AGM on the morning of Nov 11 and the Strategic Planning Workshop on Nov 12.
Ticket prices DO NOT include accommodation, however, once you have purchased your registration, you will be sent a link to access discounted accommodation at The Vines Resort.
Contact Details
This event is currently closed and no contact details are available