"I'm all about that bass": Workshop with Mark Cryle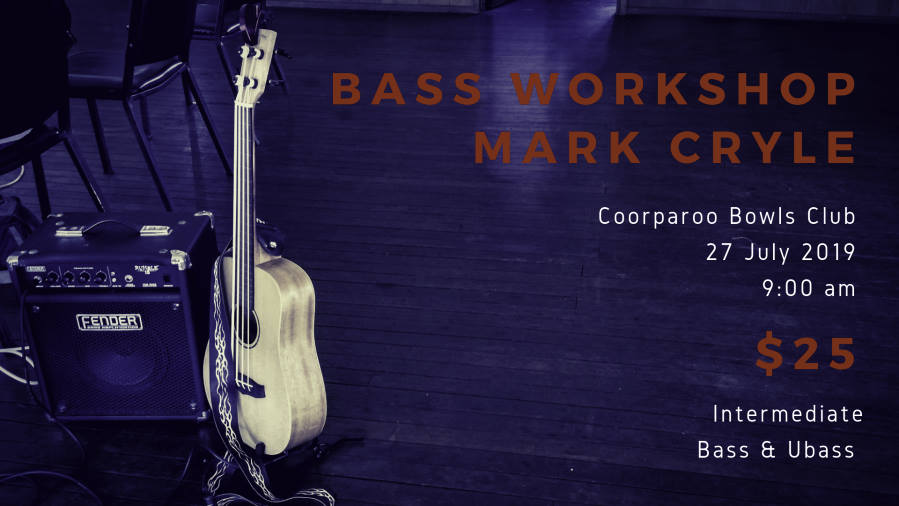 "I'm all about that bass": Elements of bass playing in an ensemble.
To enhance the bass playing skills of the participants. Suitable for bass and Ubass. The workshop will focus on bass as an ensemble instrument and will be divided into 3 sections.
1. Bass as a rhythm instrument: understanding the fundamentals of time keeping.
2. Understanding the concept of the "root note" ; knowing when to play it and when not to.
3. What to play between the "root notes"
Mark Cryle began playing bass at age 14 in high school bands. In the intervening years he has played on international and Australian festival stages, in concert halls and theatres, recording studios, clubs, pubs, churches, markets on the backs of trucks and once in a cemetery. As well as being an experienced and accomplished bass player, Mark also plays mandolin and guitar and is a highly-acclaimed songwriter.
To get the most out of this workshop participants need have the fundamentals of playing bass, and know notes of the bass fret board and be comfortable playing. This is NOT a beginners workshop.
Please bring- U Bass/ Bass guitar, Amp,  Jug lead [power chord for amp], Lead for bass, pen, notebook, extension cord, snack and water. The bar will not be open.
Door opens 9:00 am. Please check in and set up ready to start at 9:30 am.
Location
Coorparoo Bowls Club
32 Riddings Street, Coorparoo, Brisbane, QLD 4151
Contact Details
This event is currently closed and no contact details are available