A3/1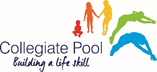 Welcome to Collegiate Pool's Learn to Swim Program!

Semester Bookings
Semester bookings provide clients with the same time & day for two terms, e.g. Term One & Term Two or Term Three & Term Four. This prevents clients from needing to re-enrol for Term Two/Term Four.
Semester booking students whom have been assessed to progress to the next level will be contacted by Pool Staff to organise a new session time or day prior to enrolments opening. Bookings cannot be changed from one day to another at the end of Term One or Term Three. 
Complete one booking every 6 months and remain with the same session time and day for 6 months.
Term Bookings
Term bookings offer clients flexibility to be able to change session times & days term by term. Collegiate Pool suggest making term bookings for students who have a  range of commitments commencing and concluding each term preventing them from enrolling in the same session time & day for a semester.
Re-enrolment is required each term. 

 
Please ensure you have read all Terms and Conditions, listed below, before continuing with your booking.  

Learn to Swim Terms and Conditions:
·         Unfortunately no refunds, credits or alternative classes will be available for missed classes.
·         Changing classes will involve a $15 transfer fee.
·         Collegiate Pool have the right to cancel classes if an insufficient number of students are enrolled in the class. (3 or less students)
·         Instructors are subject to change. (Management work towards this not occurring)
·         Students are ineligible to participate if full payment has not been received prior to the commencement of the first lesson.
All students MUST have an assessment and certificate outlining their level before booking an enrolment.
There are NO Refunds for purchases made through online payment - Please be SURE you have selected the appropriate grading and day/time before completing purchase.
If you book the attendee into an unapproved grading we reserve the right to cancel your ticket.
This event is currently closed and no contact details are available