A3/1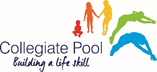 Welcome to Collegiate Pool's Learn to Swim Program!
Term Two Renovations
The Collegiate Pool will close for stage one renovations about Wednesday 8th April 2020. Stage one will consist of emptying the water from the pool, placing a temporary dome over the pool, sandblasting the interior walls, removing the stairs to the female changerooms and building a temporary wall at the shallow end of the pool.
Stage two renovations will commmence at the beginning of Term Three and will include new female and male changerooms, level access entry into the facility, a foyer and a mezzanine floor, with plans for this area to be open during the September 2020 school holidays. There will be no changes to accessing the Collegiate Pool during this term.
Please note, stage two will not affect the operation of the facility, which will remain open throughout the works.
Term One certificates will list two swimming levels, recording a Collegiate Pool and Oceana Aquatic and Fitness learn to swim level. The levels on the certificates can provide a smooth transition to Oceana learn to swim classes during Collegiate Pool's close down period, enabling our clients to enrol into classes over the phone.
Term Three Bookings
Term Three learn to swim will commence on Monday 20th July 2020 and enrolments will be available from Tuesday 17th March 2020. Term bookings offer clients flexibility to be able to change session times & days term by term. Collegiate Pool suggest making term bookings for students who have a range of commitments commencing and concluding each term.
Re-enrolment is required each term.
Please ensure you have read all Terms and Conditions, listed below, before continuing with your booking.
Learn to Swim Terms and Conditions:
· Unfortunately no refunds, credits or alternative classes will be available for missed classes.
· Changing classes will involve a $15 transfer fee.
· Collegiate Pool have the right to cancel classes if an insufficient number of students are enrolled in the class. (3 or less students)
· Instructors are subject to change. (Management work towards this not occurring)
· Students are ineligible to participate if full payment has not been received prior to the commencement of the first lesson.
All students MUST have an assessment and certificate outlining their level before booking an enrolment.
There are NO Refunds for purchases made through online payment - Please be SURE you have selected the appropriate grading and day/time before completing purchase.
If you book the attendee into an unapproved grading we reserve the right to cancel your ticket.
This event is currently closed and no contact details are available