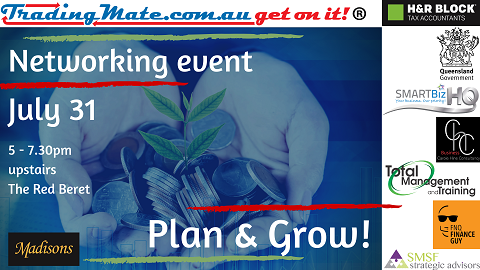 Plan to grow your business with the guidance provided by
this month's presenters!
Business Scheduling
Carole - CHC Business Consulting
"Setting yourself up for an explosive year ahead!"
Financial Planning
Jacinta – H&R Block
"Experience matters when it comes to your business Accounting!"
Borrowing & Investing
Owen - FNQ Finance Guy
"Your new Financial Year resolution: Be loan ready and save yourself time, stress and money"
Bookkeeping
Julie - Smart Biz HQ
"STOP Wasting your Time on Tedious Tasks!"
START embracing automation to reduce 30% downtime"
Superannuation
Rita - SMSF Strategic Advisors
"Are you jeopardising having enough money in your retirement by ignoring paying this one thing"
Taking on employees via Government initiatives
Bridget - Principal Back to Work Officer - Far North Queensland Region Department of Employment, Small Business and Training
"How employers can access Back to Work payments of up to $20,000 when hiring eligible jobseekers"
Considerations for hiring staff
Tina - Total Management & Training
"the additions of training utilising User Choice or Cert 3 Guarantee funding, coupled with traineeship incentives, the ability to claim all of these streams simultaneously when employing the right person"
Please feel free to contribute a business prize for the raffles!
proudly supporting Katrina Bryant & The Brock Bryant Legacy INC
Light refreshments included and your first drink is on us :)
BRING A MATE FOR FREE! Brand new Non Trading Mates are welcome - one free admission per $22* member - $27.50* non-member ticket & as always $11 2nd person same business
New Trading Mates, you get a FREE ticket to join us for your first event as members!
Location
Madisons Function Rooms
upstairs at The Red Beret, 411 Kamerunga Road, Redlynch, Qld 4870
Contact Details
This event is currently closed and no contact details are available