SV Rhona H Three hour harbour sail~cruise with lunch

SV Rhona H  Lunch sail cruise
Depart Sullivans Cove, Hobart and set sail as soon as the SV Rhona H is out the docks. Turn and head towards the Tasman Bridge, sail under the bridge and hear about the shipwrecked "Lake Illawara". Continue on towards Montagu Bay, Geilston Bay and Bedlam Walls

Lunch is served once you reach this area as it is a great opportunity to see the rock formations of Bedlam Walls, the Shag Bay Quarry and hear the story of the Shag Bay Fertiliser Works. Tea, coffee and hot chocolate are also offered for those who would like it; optional upgrade at time of booking for a sample of  Australian wine or Willie Smith cider.
The SV Rhona H then heads across the river towards the Zinc Works and Incat before heading to New Town Bay and Cornelian Bay. See Government House as you make your way back under the Tasman Bridge. You will be served a Tasmanian Cheese and Fruit Platter by the crew, what better way to enjoy your afternoon on the water. 
Once back on the southern side of the bridge, sail towards Bellerive or Battery Point and Sandy Bay before heading back to the docks.
Take the helm, help with the sails or sit back and relax as you enjoy the scenery and your freshly prepared lunch and afternoon tea.

Julie
admin@rhonah.com.au Ph 0407169623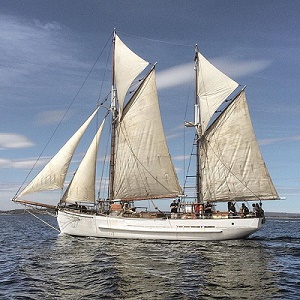 Sail Tasmania
This event is currently closed and no contact details are available