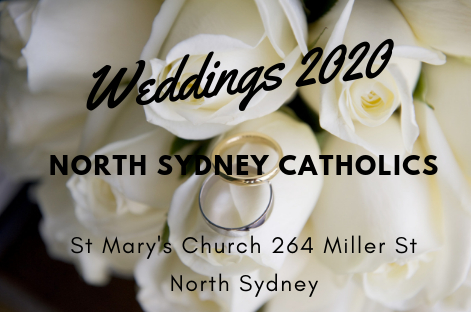 The Parish of Our Lady of the Way
North Sydney | Kirribilli | Lavender Bay
Under the care of the Jesuits since 1878
IMPORTANT MESSAGE FROM THE PARISH PRIEST REGARDING ONLINE BOOKING
If either person has been married before please contact the Parish Office 8918 4101.
DO NOT PROCEED WITH THE BOOKING. Thank you.
Wedding Times
St Mary's Church 264 Miller St, North Sydney
Fridays 2pm
Saturdays 2pm & 4pm
Sundays 2pm
Guidelines for Weddings
It is the responsibility of the bride and groom to:
Arrange a catholic celebrant and secure the date with him (1)

Make arrangements with the celebrant to attend a marriage preparation programme (2)

Arrange flowers and music for the wedding

Contact the Parish Wedding Registrar (marriages@northsydneycatholics.com) to arrange times for wedding rehearsal/s

Please be aware that the following are not permitted inside the churches, or in the grounds of the church: food and beverages, the scattering of flower petals, rice or confetti.

Parking is available at all churches, except that parking is limited on Fridays 
Couples are encouraged to provide their celebrant; however, you may contact one of our parish priests. Fr Andrew Bullen SJ or

 Fr Michael Stoney SJ Ph: 8918-4101

. Given their commitments, 3 months notice is required.

Marriage preparation programmes are highly recommended and can be organised with CatholicCare (

www.catholiccare.org

) or directly with

 Clare Koch 0417-226-680.
The fee for use of the church covers the cost of a sacristan, cleaning and a contribution to the maintenance of the church including sound/AV, power, and light, etc.

The Parish uses TryBooking to manage wedding/baptism bookings and other sacramental programmes. Please excuse the ticketing nature of this process.

Once the booking is completed, the Parish Wedding Coordinator will be in contact with you regarding this booking. Please allow up to one week for a response.
Make a booking, click below
Resend tickets to your email address.
Contact the event organiser.
You can review the event organiser's terms and conditions here.
You can review the event organiser's terms and conditions here.
If you can't find your tickets, click here.
Your email has been sent.
The organiser will be sent the details of this message.

Sorry, there appears to have been an error. Please try again later.