ANGLESEA RIVERBANK MARKET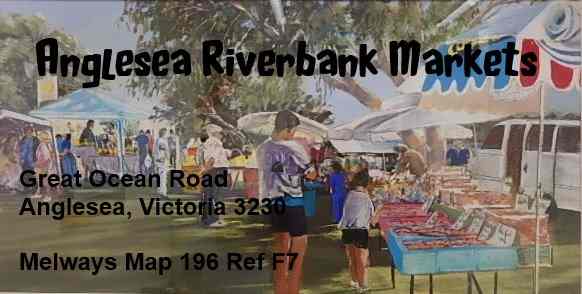 Tel:     0475 809 381
BOOKINGS WILL OPEN AT 9.00AM ON MONDAY 9TH SEPTEMBER:
  THE DATE FOR THE 2019/2020 MARKETS SEASON ARE:
Sunday 3rd November 2019
Wednesday 1st January 2020
Saturday 4th January 2020  (Twilight Market) 
Sunday 12th January 2020
Sunday 8th March 2020
Sunday 12th April 2020
SCROLL DOWN FOR MARKET MAP AND BOOKINGS.
PRICES - This now includes a new 2.5% Trybooking processing fee.
              Non Powered Standard Site    $74.50 + .50c booking fee (No Take Away Food)
              Non Powered Small Site          $67.00 + .50c booking fee (No Take Away Food) Sites A 11
             **Food Site Non Powered             $85.00 + .50c booking fee (INVITATION ONLY)
             **Food Site Powered                $97.50 + .50 booking fee  (INVITATION ONLY)
**All food sites are by invitation only.
Bookings can only be made on this website and payment is only by credit card.

ALL STALLHOLDERS MUST HAVE PUBLIC LIABILITY INSURANCE

AS PER TERMS AND CONDITIONS.

 

You must agree to the terms and conditions to book a site, this includes agreeing to comply with the Surfcoast Shires Plastic Wise Policy.  (please read this carefully)
Booking for markets close at 4.00pm on the day prior to each market:
Please click icon below to view terms and conditions.
 Please take note of No. 3.
Refunds
. Site fees are not refundable
under any circumstances.

Don't be disappointed, book on-line prior to the closure.
Cash Payments will not be accepted on the day of the market.
This event is currently closed and no contact details are available