A Weekend of Jazz with James Morrison
THIS EVENT IS NOW CLOSED FOR BOOKINGS _ TICKETS STILL AVAILABLE AT THE DOOR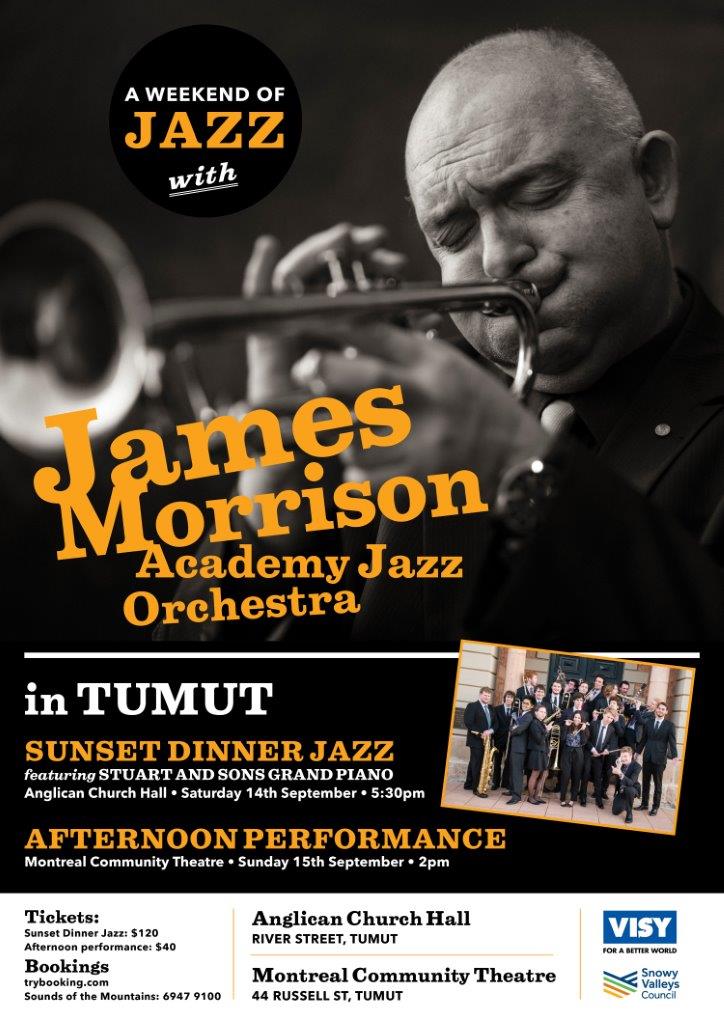 PROUDLY BOUGHT TO YOU BY THE MONTREAL COMMUNITY THEATRE
Following on from a smash hit event  held in 2018, Tumut will again host the James Morrison Acadmey Jazz Orchestra in September.   
James Morrison is, by anybody's standard, a virtuoso in the true sense of the word. Known worldwide for his sheer brilliance as a jazz muscian, James and the Academy Jazz Orchestra will inspire you throughout the weekend of jazz. Besides the trumpet, this multi-instrumentalist also plays trombone, piano, saxophone and double bass.
The Jazz Morrison Academy Jazz Orchestra is the premier performing ensemble of the internationally acclaimed James Morrison Academy program. James Morrison himself directs the Jazz Orchestra. The JMAJO, a 20 piece jazz big band tours Australia every year visiting major venues in Sydney, Melbourne, Brisbane, the Gold Coast and Adelaide. This year the JMAJO will be visiting Tumut for the weekend and there are many options to choose from.
SUNSET DINNER JAZZ - 5.30pm Saturday 14th
Anglican Church Hall, River St Tumut
Canapes and complimentary drink on arrival in the church gardens overlooking the Tumut river. Followed by a two-course meal and an intimate evening of jazz in the church hall. Drinks available for purchase at the bar. Evening finishes about 10pm
Evening features a locally made Stuart & Sons Concert Grand Piano
Tickets $120 per person. Age 15+
AFTERNOON PERFORMANCE - 2pm Sunday 15th
Montreal Community Theatre, 44 Russell St Tumut
Tickets Adult $40, School Age $30 and under 5 free
Performance finishing about 4.15pm
WORKSHOPS - Sunday 15th
10am - Students who have been playing for less than 12 months
11am - Students who have been playing for more than 12 months
Montreal Community Theatre, 44 Russell Street Tumut
Students will be performing with the big band during the afternoon performance
Students of any age, any ability, any instrument welcome to attend.
Tickets Adult $70, School Age $40 (includes ticket to afternoon performance)
Ensure you arrive 15 minutes before the workshop with your instrument.
CONTACT DETAILS
Brook Penfold 0437 480 128
Sounds of the Mountains 69479100
Contact Details
This event is currently closed and no contact details are available