ASMR WA & Scitech Science in the Cinema 2019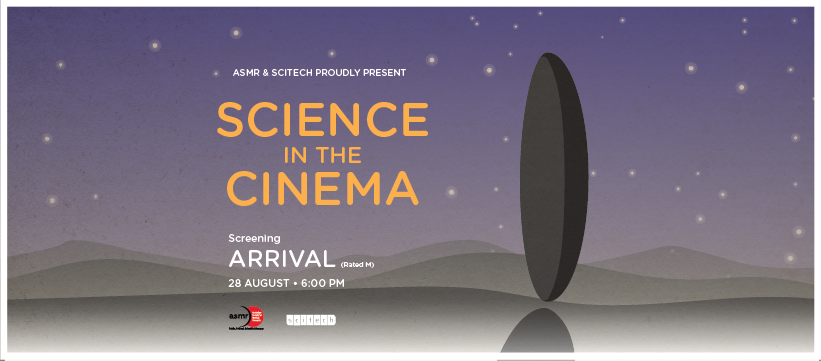 Movie: Arrival (2016, M)
When mysterious spacecrafts touch down across the globe, an elite team - lead by expert linguist Louise Banks (Amy Adams) - is brought together to investigate. As mankind teeters on the verge of global war, Banks and the team race against time for answers – and to find them, she will take a chance that could threaten her life, and quite possibly humanity. Watch preview
here.
The scientific themes within this film are many and will set the scene for a lively discussion between attendees and our expert panellists.
Panelists: 
Dr David Lewis (Psychology, Murdoch University)
Dr Sender Dovchin (School of Education, Curtin University)
Ben Ainslie and Daniel Midgley (Presenters on RTRFM's "Talk the Talk" Podcast)
Dr Frances Marcus Lewis (Professor, University of Washington, Affiliate Fred Hutchinson Cancer Research Center)

Our special format for the evening will include screening the first half of 'Arrival' before breaking for a panel discussion about the scientific topics explored in the movie. This will be followed by a break for pizza before watching the second half of the film.
We are encouraging reduced use of plastic and ask that guests bring along a reusable drink bottle for water. Please note,  food is not allowed in the Planetarium.              
Date: Wednesday, 28 August 2019
Time: 5:30pm for a 6:00pm start; Concludes at 9:15pm
Cost: $6.00pp (plus 50c booking fee) 
Parking: Free from 5:30pm, come directly upstairs to register
Location
Scitech Planetarium
City West Centre,
Sutherland Street, WEST PERTH, WA 6005
Contact Details
Yvonne Learmonth
Email: y.learmonth@murdoch.edu.au
Tel: 08 9360 6373
This event is currently closed and no contact details are available