Educating The Future Gala Dinner


Educating The Future Australia Limited (ETF) is a registered Australian not-for-profit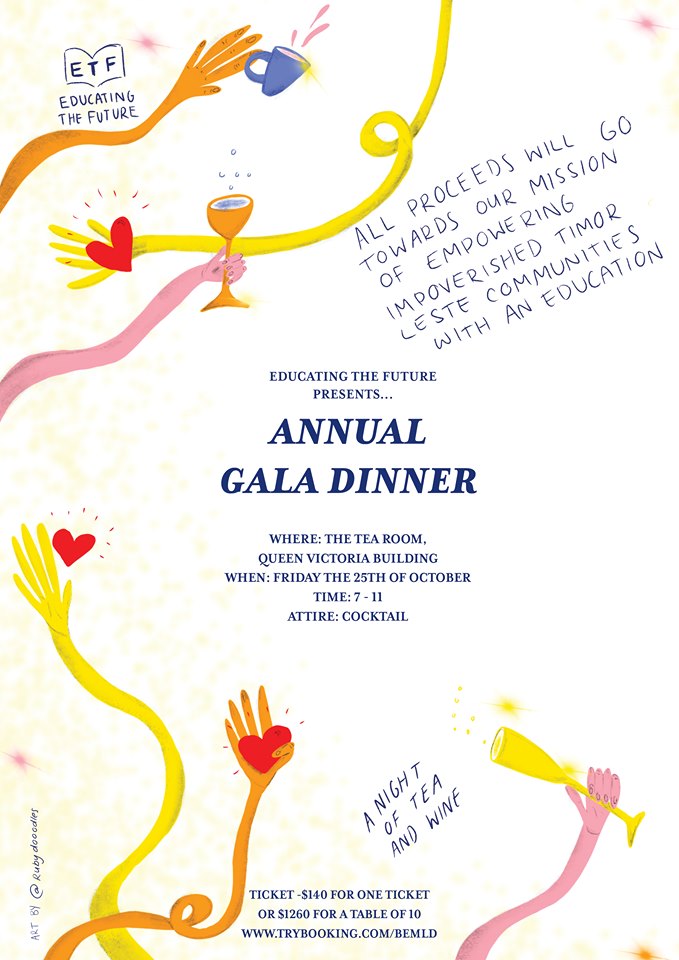 organisation. The mission of ETF is simple: to empower youth in disadvantaged communities by providing education. We hope that by doing so, we might improve their quality of life and expand their potential. 
ETF's primary operations take place in Timor-Leste, one of the youngest countries in the world, located 500km northwest of Australia. 20 years ago, a devastating war of independence destroyed 95% of Timor-Leste's educational infrastructure, leaving the country, which has an average age of 18, to rebuild the pieces. ETF is now working alongside the Timorese Government to provide access to quality education, with preschools as a national priority. 
ETF began as a product of student entrepreneurship and maintains a youth-led operational team, guided by a qualified and experienced Board. Since 2016, ETF has succeeded in constructing a preschool with the Railaco Motahare community, educating 60 students, who would not otherwise have been afforded this opportunity. By maintaining partnerships with the Ministry of Education in Timor-Leste, ETF plans to construct a further two preschools by 2020. 
Join us on the 25th October to celebrate our achievements and fundraise with the interests of Timor-Leste at heart! The night will include a three-course meal, complimentary beer, wine and non-alcoholic drinks, live music, raffles and silent auction prizes. 
Location
Queen Victoria Building, Tea Rooms
455 George Street, Sydney, New South Wales 2000
Dress Code: Cocktail
TICKET PRICES
$140 per person 
$1260 for a table of 10 

All funds raised will assist ETF in achieving their mission. 

Please note that no tickets will be available at the door and seating will be planned in advance. 
Contact Details
ETF would like to thank all of our donors who have given in-kind goods for the night. If you would like to donate an item for our silent auction or raffle, please get in touch via info@educatingthefuture.org. 
This event is currently closed and no contact details are available