Ronald D Yoshimoto - Four Day and One Day Training Workshops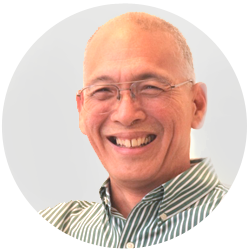 A unique professional learning opportunity with world renowned educator Ronald H. Yoshimoto.
Four Day Workshop - April 3, 6, 7 & 8 2020  (
OG Basic Course)
One Day Workshop - April 9 2020  (
 OG Advanced Morphology Course - pre-requisite for this course is the OG Basic Training)
All sessions are from 8am to 4pm. 
Ron Yoshimoto
Ron Yoshimoto is a master trainer in the OG Approach, having trained thousands of individuals in Hawaii, the continental U.S., Canada and Singapore. He is the former Vice-president and a Fellow of the Academy of Orton-Gillingham Practitioners and Educators. He is also Co-President of the Hawaii Branch of the International Dyslexia Association (IDA). He has more than 25 years experience in training teachers/parents and working with dyslexics.was the Principal of ASSETS School in Honolulu which serves dyslexic, gifted, and gifted-dyslexic children. He was a consultant to the Dyslexia Association of Singapore (DAS), and at their invitation, was in Singapore several times to train their teachers and Learning Support Co-ordinators from the Ministry of Education. Ron has presented extensively in dyslexia conferences in the U.S.A and Canada. He has published numerous articles on dyslexia and was interviewed by Channel News Asia on Prime Time Morning for his views on dyslexia in 2007 and 2008. He is the recipient of the prestigious U.S National Blue Ribbon School Award for Excellence.
Learning Outcomes for Course
The four day Yoshimoto O.G. training will focus on a data-driven, clinical, multisensory, phonetic, teacher guided Orton-Gillingham approach to teaching reading, writing and spelling in a whole classroom, small group and one-to-one settings. Upon completing this course participants will have acquired the skills necessary to fully implement this data-driven solution for teaching reading to all students. 

The course will cover the three levels of decoding and spelling: sound, syllable, and morphological. With the latter, introductory morphology, the emphasis will be on increasing the vocabulary for all children – general and special education students. Further, the system supports the outcomes within the Common Core.
Specific Professional Learning Outcomes include:
Teachers will gain an understanding of the essential components necessary for reading success

Teachers will identify reading issues of students and plan a course of action 

Participants will understand the learning needs of dyslexic students or of those with a reading disability

Teachers will be taught a scope and sequence for teaching phonetic elements for reading and spelling.

Teachers will learn how to develop and implement a structured and multisensory lesson plan

The teachers will acquire knowledge of structured multisensory procedures for teaching reading and spelling skills-sounds, syllabication, blending, learned words, fingerspelling, dictation, word fluency, oral reading fluency and reading comprehension.

Teachers will learn correction procedures and a diagnostic/prescriptive approach to teaching reading and spelling

Teachers will learn how to do OG in therapy sessions and how to do OG in small group and whole classroom formats for general education and sped classrooms.

Teachers will learn differentiation and scaffolding strategies as well as strategies for integrating vocabulary development, grammar, thinking skills, writing, etc.

Please Note: All training course materials, including extensive teacher resources, are included in the cost of the course.

Morning tea, lunch and afternoon tea will be provided.
Location
[St Virgil's College Junior School ]
[102], [Patrick Street], [Hobart], [Tasmania] [7000]
Contact Details
This event is currently closed and no contact details are available