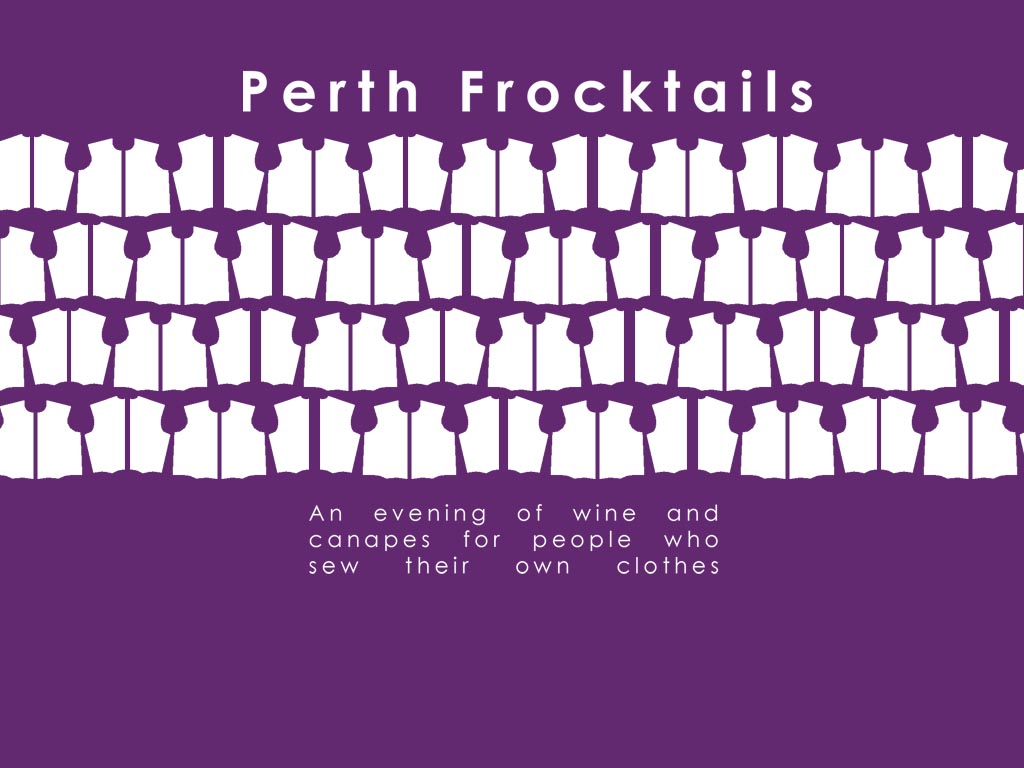 Perth Frocktails is an annual celebration for (and of!) people who love to sew their own clothing.
It's an opportunity to meet other members of the sewing communitiy, and to admire the talents and garments of friends, new and old. 
EVENT DETAILS
On Saturday 9 November 2019 at 7:00pm
Arthur & Co
Hibernian Place, 480 Hay St, Perth, WA 6101
TICKET PRICE
$44 - Early bird tickets (available until 20 September 2019)
$54 - All other ticket sales (purchases after 20 September 2019)
what your ticket includes
Your ticket includes a range of delicious canapes served over the course of the event. We can't tell you exactly what canapes will be served yet, because Arthur & Co is all about the use of seasonal produce! (When purchasing your ticket, please advise of any dietary requirements.)
We'll also have a photographer joining us, to capture the evening and document garments! Photos will be posted on the @_perth_frocktails Instragram account the following day. 
You'll be able to purchase your own drinks on the evening. Arthur & Co's wine list focuses on WA and interstate wines, and they also have a range of craft beers available on tap. 
DO I HAVE TO SEW SOMETHING NEW FOR FROCKTAILS? 
Goodness, no!  If you want to use the event as an excuse to sew something new - you can!  But, there's no obligation to do so.  You can turn up in ready to wear... but being an event designed specifically for people who sew, we would encourage you to wear something you have sewn yourself - a garment or an accessory.  
NAME TAGS & HASHTAGS
Name Tags: If you are an Australian Sewing Guild member, we'd love it if you'd accessorise your outfit with your gold ASG name badge! But, we'll make sure everyone has a name tag on the evening. 
Hashtags: Please use #perthfrocktails2019 and #australiansewingguild for your pictures on Instagram! 
GETTING TO AND FROM HIBERNIAN PLACE
There's some ticketed street parking, as well as a number of City of Perth and Wilson car parks within a short walking distance. (Prices vary.) Car pooling is encouraged/recommended, since you might wish to partake in a drink or two! Hibernian Place is also a 600-750m (8-9 minute) walk from the McIver/Perth Train Stations.  Taxis/Ubers are also easy to catch to/from the CBD.  
SO... IS FROCKTAILS THE SAME, OR DIFFERENT TO THE PERTH SEWCIAL SOIREE?
In recent years, you may have attended (or heard about) the Perth Sewcial Soiree event, hosted by Sew for Life. The Australian Sewing Guild in WA - specifcally members of the #vicparksewcialists and #maylandssewcialclub social sewing groups - have agreed to take on responsibility for organising the re-named Perth Frocktails event in 2019.  
Make a booking, click below
Resend tickets to your email address.
Contact the event organiser.
You can review the event organiser's terms and conditions here.
You can review the event organiser's terms and conditions here.
If you can't find your tickets, click here.
Your email has been sent.
The organiser will be sent the details of this message.

Sorry, there appears to have been an error. Please try again later.