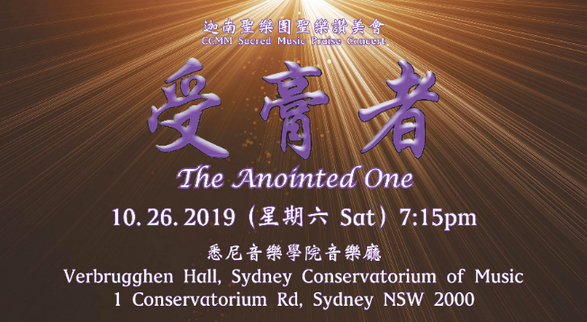 CCMM will host The Anointed One at the Verbrugghen Hall as a grand scale Choral-Orchestral concert. To this end, the CCMM will present a 60 strong choir accompanied by 40 members orchestra, added with the highlight of three invited outstanding vocal soloists from overseas. The repertoire will include classical sacred composition by Bach, Handel, Mozart, Faure, Vivaldi, as well as The Anointed One composed by the contemporary Chinese composer Prof. Geshun Ma.
The Anointed One was composed by the well-known Chinese sacred music composer and chorus conductor, the late Prof. Geshun Ma. Prof. Geshun Ma was the conductor of the Shanghai Churches' Combined Choir in the early 1950s. When it became repetitive to rehearse Handel's "Messiah" year after year, he tried to make a change to rehearse Bach's "Christmas Oratorio". He said: "It was a similar kind of work, but I felt that this work was much more difficult to learn". As a result, Professor Ma began to think of creating a Christmas cantata that would suit the standard for the choir he was conducting. In the spring of 1953, he commenced writing The Anointed One. The work was completed in the spring of 1954 after a whole year of hard work. The China Baptist Book Company subsequently published this work in October that year. On the 19thDecember, 1954, The Anointed One was premiered at the Shanghai Mu Er church (now Mu En Hall, South Tibet Road), and received enthusiastic response.
For more than 60 years, this work has been widely performed in Chinese churches all over the world, and has become well recognised among the Chinese Christians. Many Chinese Christians see this work as an alternative to Handel's Messiah and is easier to learn.
迦南聖樂團將在悉尼音樂學院音樂廳(Verbrugghen Hall)舉辦【受膏者聖樂讚美會】。這是迦南聖樂團四年以來舉辦最大規模的讚美會,屆時將由六十餘人的詩班加上四十余人的交響樂團聯袂呈現,並特邀三位海外的主內歌唱家前來擔任領唱。曲目將包括巴赫、亨德爾、莫札特、福瑞、維瓦爾第所作之經典聖樂作品,以及中國馬革順教授創作的清唱劇【受膏者】。
聖樂大合唱【受膏者】是我國著名聖樂作曲家、合唱指揮家馬革順教授,于1954年為上海市基督教各堂組成的聯合聖誕音樂崇拜而創作的,並于當年10月由中華浸會書局出版。【受膏者】分兩個部分,由12首歌曲組成:第一部分為"預言",共6首歌曲;第二部分為"成就",共6首歌曲。上個世紀五十年代初,馬革順教授負責上海教會聯合詩班的排練和指揮,當他感受到每年都排練亨德爾的【彌賽亞】有些單調時,就萌生了排練巴赫的【聖誕清唱劇】一類的作品,但又感到這類作品難度較大,不易排練。由此,馬革順教授計畫創作一部適合中國人演唱的聖誕大合唱。1953年春天,他將這一計畫付諸實施,開始創作【受膏者】。經過整整一年的努力,【受膏者】于1954年春天寫成,並于當年10月由中華浸會書局出版。1954年12月19日,【受膏者】在上海慕爾堂(今西藏南路沐恩堂)首演,引起了強烈的反響。
六十多年來,在世界各地的華人基督教會的音樂活動中常被演唱,深得華人基督徒的喜愛,這部作品被華人基督徒譽稱為中國的【彌賽亞】。
Location
Verbrrughen Hall
1 Conservatorium Road, Sydney, New South Wales 2000
Contact Details
This event is currently closed and no contact details are available