Twenty: Lumina Vocal Ensemble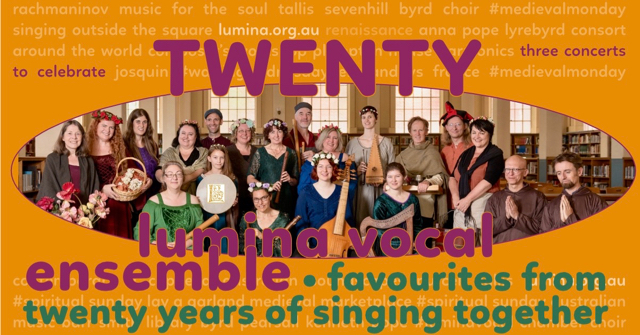 Lumina Vocal Ensemble presents
Twenty
Singing together for 20 years has meant sharing hundreds of magical pieces of music with you—often treasures we've unearthed ourselves, both old and new.
To celebrate, we've taken up the challenge of choosing favourites, both yours and ours.
Bach, Purcell, Rachmaninov and William Barton; the sublime, velvety brilliance of Pearsall's Lay a garland; music for the small and large screens from The Hobbit, Avatar and the BBC's Home Fires; the cheeky humour of Reflections through the Looking Glass and Common Perception of Demons by our own Rachel Sag and Saam Thorne. Plus a perennial Lumina favourite, The Lover's Ghost.
We've also explored some wonderful spaces to sing over the years and have chosen three of our favourites for this celebration. We've also discovered that our audience loves the chance to sing with us, so we've included the spine-chilling shape song 'Idumea – and am I born to die' once again.
Barr Smith Library Reading Room, Eastern Door, Barr Smith Library, University of Adelaide
Twenty will also be performed at:
St Aloysius' Church Sevenhill • Sunday 6 October at 3pm
and
St John's Halifax St, Adelaide • Sunday 20 October 3pm
Enquiries: 
Anna Pope lumina@adelaide.on.net
This event is currently closed and no contact details are available