Exitleft presents The Wizard of Oz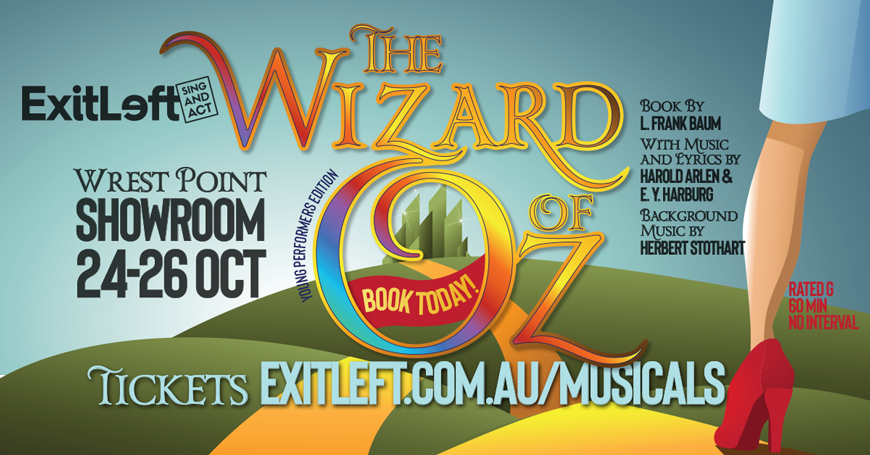 By L. Frank Baum
With Music and Lyrics by Harold Arlen and E. Y. Harburg
Background Music by Herbert Stothart
Like so many girls her age, young Dorothy of Kansas dreams of what lies over the rainbow. But when a twister strikes her Aunt Em's farmhouse she and her faithful dog Toto get carried away on the most epic adventure with the Wizard of Oz!
Full of munchkins, magic and mayhem, Dorothy and her new friends Scarecrow, Tin Man and Lion must conquer their biggest fears and work together to defeat the Wicked Witch of the West. The Wizard of Oz Young Performers Edition is being performed at the Wrest Point Showroom and is just the right length for kids and adults of all ages to enjoy!
Rated G, 60 minutes with no interval.
PERFORMANCES
Thursday 24 October (Show Day) - 10am, 1pm & 5pm
Friday 25 October - 5pm
Saturday 26 October - 11am & 5pm
Location
The Showroom, Wrest Point
410 Sandy Bay Road, Sandy Bay, TAS 7005
Dance and Vocal Arrangements by Peter Howard. Orchestration by Larry Wilcox. Adapted by John Kane for the Royal Shakespeare Company. Based upon the Classic Motion Picture owned by Turner Entertainment Co. and distributed in all media by Warner Bros. Adaptation and support materials for the Young Performers' Edition developed by iTheatrics. Under the supervision of Timothy Allen McDonald. "The Wizard of Oz" is presented by permission of ORiGiN™ Theatrical on behalf of Tams-Witmark Music Library, Inc.
This event is currently closed and no contact details are available