Perioperative Patient Blood Management Symposium 2020

Description:
4th Perioperative Patient Blood Management Symposium
The Centre for Excellence and Innovation in Anaesthesia (CEIA) would like to invite you to attend the 4th Perioperative Patient Blood Management Symposium. Patient Blood Management is complex and its implementation often presents many challenges. We will focus on the importance and evidence in Perioperative Patient Blood Management and provide advice on implementation strategies. Local, national and international experts will present state-of-the art knowledge and latest research. Our workshops provide hands-on experience with plenty of take home material.
Poster Competition
Symposium registrants are also welcome to enter the Poster and Abstract Submission Competition. You are invited to submit a Poster, along with your chosen theme and abstract. Further details and closing date information are included on the form which can be downloaded by clicking the link below:

Symposium Registration (Saturday 15th February):
Medical: $200 AUD
Non-Medical: $100 AUD
Workshop Registration (Friday 14th February):
Workshop Day – Friday 14th:
Workshop 1 (Intraoperative Cell Salvage and Virtual Reality)

Workshop 2 (Major Haemorrhage – Management of Unexpected Major Bleeding)

Workshop 3 – (QAS- 'When you are Outside the Hospital and the Patient Won't Stop Bleeding)
Note: Attendees can only register for a Workshop once they have registered for the Symposium. It is not possible to register for a Workshop only.
Privacy:
The Privacy Act 2001 provides that before your name and address details can be published in the list of delegates for distribution to fellow delegates or any other party, you must consent. Please nominate your preference for being included in the list of delegates by selecting yes or no on the upcoming page of the registration which asks your consent to add your details to the list.
Contact Details:
PPBMS Organising Committee
Department of Anaesthesia and Perioperative Medicine
Royal Brisbane and Women's Hospital
Butterfield Street, Herston, QLD 4029
Ph: (07) 3646 3102
Email: ppbms@health.qld.gov.au
MNHHS event page: https://www.health.qld.gov.au/metronorth/events/ppbms/default.asp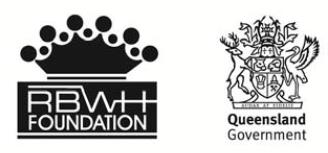 This event is currently closed and no contact details are available