More discourse than lecture, Practical Wisdom Workshops offer you the opportunity to engage with the subject matter, question and discuss with like minded people. Join the discovery of practical wisdom and how it could be applied in daily life.  Sessions are limited to 20 attendees.
True Confidence 
We tend to strive for inner confidence leaving doubt behind.  Much of our time and energy can be spent in justifying and covering our not so strong self-esteem.  This tends to separate us from the great unity of mankind.  Let us discover some of the fundamental practical principles which will help us to be our 'natural' selves. This will then allow us to give more of our energy and attention to addressing whatever comes along in life in a more straightforward and insightful manner – no need for acting!  Thus, life can be more enjoyable, simpler and more directed.
PRESENTER, Warwick Brewster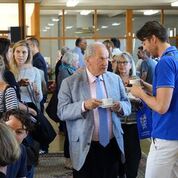 Warwick Brewster was a leader in the development of an integrated design and construction approach to building, both through his lectures as head of the Building & Construction department at RMIT University and practically through the company he founded and directed, as a consultant to a number of larger construction companies. 
Warwick's lectures at RMIT embraced a philosophy for the conscious management of a building company and its work sites. 
He has attended the School of Philosophy for forty years in which time he has had many roles culminating in being the founding Chairman of Erasmus Primary School.
DATE & TIME
Saturday 5th October
   Approx 2hrs
Location  
School of Philosophy
1 Through St, Hawthorn, VIC 3122
This event is currently closed and no contact details are available