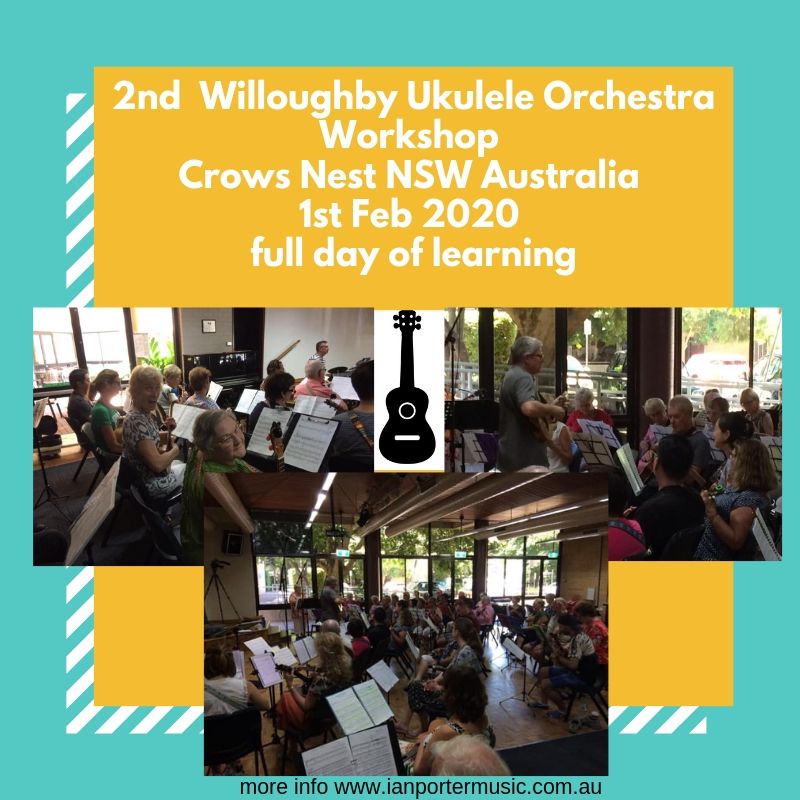 This 1-day workshop is run by Ian Porter, the certified James HIll ukulele teacher resident at the Dougherty Centre in Chatswood, on Sydney's lower North Shore. Ian is assisted by other James Hill certified-teachers who will guide you through an intensive tutoring session based on your skill level (Level 1, Level 2, Level 3 and expert) covering 3 mulit-part instrumental pieces (1 Jazz, 1 Classical, 1 Pop). In the afternoon you will be combined with the other players for a rehearsal as a full ensemble. The day wraps up with a recording of your performance.
All music is provided 2 months in advance, together with audio files for your part so you can start to practice ahead of the workshop. The outcomes are an understanding of what it means to be part of a structured orchestra, understanding conductor instructions and signals, listening critically to the other parts in the orchestra and how your part fits in, as well as exposure to three different genres of music arranged specifically for ukulele.... oh and most importantly, having fun!
Ukuleles of all sizes in standard C6 GCEA tuning are welcome. No baritone ukulele parts will be allocated, please contact us prior to booking.
Please visit www.ianportermusic.com.au for pre-requisitis for each skill level. NOTE: THIS IS NOT AN EVENT FOR ABSOLUTE BEGINNERS (ie never played before).
Minimum age 16 - no maximum!
Note: Attendees under the age of 18, there is no supervison provided outside of rehearsal times, a separate indemnity will be required to be signed by a parent or guardian on the day. All tutors have working with children clearance. 
Rehearsals starting at 9:00am sharp. There will be a 1 hour lunch break, where you can wander through the Crows Nest restaurant precinct and source food, then a session in the afternoon, with the final recording and performance concluding the workshop around 5:00pm. Morning and Afternoon refreshments will be provided.
Location
Crows Nest Community Centre
2 Ernest Place Crowsnest, NSW, 2065
Parking available onsite
Contact Details
Ian Porter, info@ianportermusic.com.au
This event is currently closed and no contact details are available