IMPACT: Building your personal brand with Madel Giles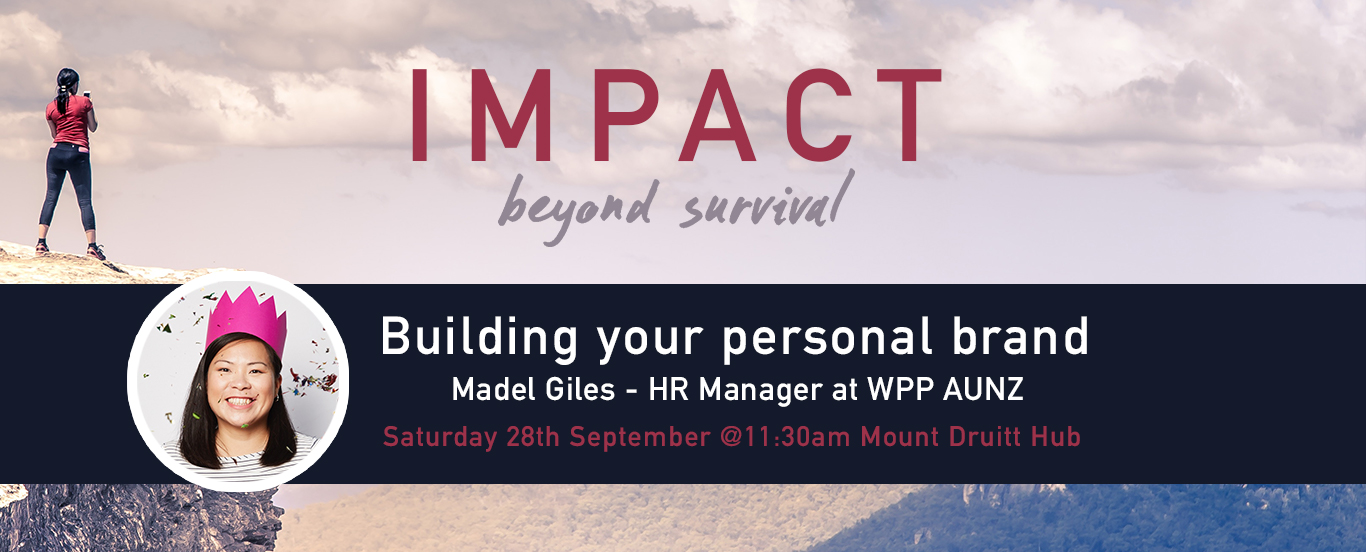 Come and join us for our next IMPACT: Beyond Survial event with Madel Giles. In this session, she will share her learnings in building her personal brand authentically and share insights on how to build your network in and outside your organisation to help accelerate your career. 
 
About MADEL
Madel Giles has over 12 years of HR and Operations experience across digital, advertising, media, technology, and training industries. She has built HR functions and managed the full employment life cycle from recruitment, on-boarding, learning and development, HR policies and procedures, performance management and employment relations. She genuinely wants to understand people, their strengths, motivations, and how they can navigate themselves in the complexity of the organisation.
Outside of the corporate world, she has worked on some amazing projects and start-ups providing content, operational support, researching or consulting for Gemini3 - Job Share Matching Platform, MiamiAdSchool, GirlGeek, Women In Tech Dinner & Drinks, Kenvale College, Little Girl Big Dream, and The Dream Collective. Madel brings together her love for hiking and passion for diversity and inclusion through charity challenges hiking across Fiji with United Nations Women, and trekking Mount Kosciuszko for RUOK?
Madel has a personal brand built on trust, knowledge, and a genuine passion for learning and solving problems.
 
event details 
. 
Doors will from 11:30 am for a 11:45 am start.
The Mount Druitt Hub
Level 1, 9 Ayres Grove, MOUNT DRUITT, NSW 2770


About the event
The event will include a talk, discussions as well as a Q&A with Madel over some morning tea.
11:30 am for a 11:45 am start
11:45 am - 12:45 am - Session, discussion and Q&A
12:45 pm - 1:15 pm - Networking over light refreshments
Our IMPACT - Beyond Survival events are spaces for Women who live and/or work in Western Sydney to learn, grow and connect with other women.
HOW TO FIND US
1. Please use the Ayres Grove entrance to The Mount Druitt Hub. This is located on the swimming pool and medical centre side not the Westfield side. You will know you're on the right side if you see a ramp.
2. There is a security door with a keypad. Please type our room number: 02 and through the intercom we can buzz you in. If you need help there are instructions next to the keypad for your reference.
3. If you have any trouble at all please do not hesitate to contact our team on: 0420 552 588
All of the information collected in this booking form are used purely for the organising of IMPACT events. None of this information will be shared outside of this. If you would prefer not to list any details (a part from your email address), please enter "-" so that you can complete the booking form.
In future, you may receive email notifications about upcoming events. To stop receiving these, please reply stating that you would like to be removed from the mailing list.
This event is currently closed and no contact details are available