The Policy Infrastructure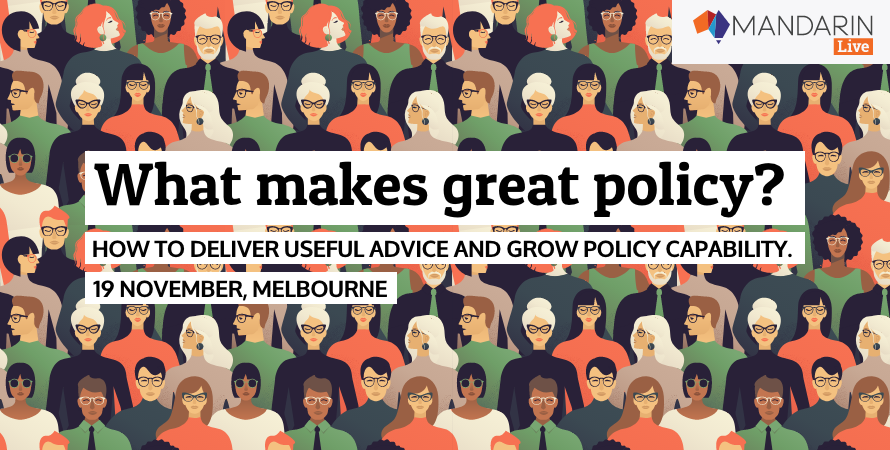 How to deliver great advice and grow policy capability
A one-day interactive event for current and aspiring leaders of policy projects, teams and organisations.
What makes for great policy design and delivery? What does the modern policy toolkit look like and how can policy makers merge new methods with traditional approaches? How do leaders ensure their teams and organisations supply current decision makers with great advice while simultaneously building capability to meet future demands?
Evidence-informed frank and fearless policy advice is critical for good government decision making. Good policy advice rests on an effective infrastructure that includes effective policy design and development processes, a modern methods toolkit, and skilled people who can collaborate across government and beyond (with the private sector, NGOs, stakeholders and the people who will be affected by decisions).
Policy leaders need to be able to meet the demands of current decision-makers while maintaining and building capability and the knowledge base to serve future governments. They need to be able to understand the supply and demand sides of the policy equation.
Mandarin Live is bringing you a day of presentations, panel discussions and workshop activity to pick apart this complex public management challenge of how to build an effective policy infrastructure. The program is designed and led by Monash University Professor Michael Mintrom, expert in policy design who teaches and has written extensively on public policy, and Sally Washington who developed and led New Zealand's Policy Project and currently works with a range of jurisdictions to build policy capability. This unique event offers participants access to the latest thinking in policy design and capability from around the world, and an opportunity to co-design the bones of a policy infrastructure which can be later fleshed out and adapted to their particular policy environment.
The event
Participants will hear from and interact with Michael, Sally and other experts and policy leaders, all of whom understand the complex challenges of the public sector, and current governance and accountability challenges. Following an overview of the latest thinking on methods and approaches and who is doing what around the world, participants will dig deep into the critical components of the infrastructure for ensuring policy quality and growing capability.
Who would benefit most from this event?
Public sector executives and senior managers, policy officers, expert advisors involved in the policy process, and political advisors

Managers working in other sectors (NGOs, private sector) who provide advice to decision makers in their sectors and/or interact with government and public policy

Consulting firms working with government
Who will you hear from and interact with on the day?
Co-facilitators Professor Michael Mintrom and Sally Washington (see profiles below)

Tanya Smith, Principal, The Nous Group

Danielle Wood, Budget Policy and Institutional Reform Program Director, The Grattan Institute
Outcomes - what will you get out of the day?
Leave with a draft policy infrastructure to adapt and augment to your work, team or organisation – you'll have a basic map and a direction of travel to build on with colleagues

Inspiration, insights and connections with fellow travellers also grappling with how to improve their policy services

Appreciation of the systemic nature of good policy and how the various pieces of the quality puzzle interact – it's not just about good ideas and smart people.
What will the day's program look like?
9:00 - 9:30
Registration and Welcome Coffee
9:30 - 9:45
Overview of the session
9:45 - 10:00

Who's doing what, where and why: Understanding the context.

A brief overview of the modern context for delivering policy advice and building policy capability, and approaches and improvement trajectories from a range of jurisdictions

10:00 - 11:00

The good policy infrastructure.

A detailed look at modern policy design and methods, and the organisational and systems infrastructure required to support and enable the delivery of good advice.

11:00 - 11:15
Morning Tea
11:15 - 12:15

Panel – Enablers, barriers and critical success factors for improving the quality of advice and building a high-performing policy shop.

Panel members will discuss their 'warts and all' experience and share their top tips. They will respond to challenging questions from the facilitators. Participants will have the opportunity to interrogate their responses.

12:15 - 1:15
Lunch
1:15 - 3:15

Designing a good policy infrastructure.

Participants will get hands on in groups in a co-design exercise to dig deep into the critical components of good policy design and effective policy capability and how they interact. They will create prototypes of a good policy infrastructure.

3:15 - 4:00

Refining and operationalising the good policy infrastructure.

Participants will share and critique the prototypes and discuss how they might use them in their own work, team or organisation.

4:00 - 4:30
Closing Address and Follow-up
* The Mandarin reserves the right to adjust speakers abd program without notice.
About the lead facilitators
Michael Mintrom is professor of public policy at Monash University. He has written extensively on policy design and policy entrepreneurship. His extensive body of publications includes Public Policy: Investing for a Better World, and Contemporary Policy Analysis (both Oxford University Press). He recently co-edited a book on policy successes in New Zealand and Australia. Michael has served as Academic Director and the Monash Chair at The Australia and New Zealand School of Government (ANZSOG). In addition to research and teaching in Australia and internationally, he works with organisations and jurisdictions to assess and improve their policy advice and capability.
Sally Washington is an independent public policy/public management specialist. She was inaugural Director of the New Zealand Policy Project, a whole-of-government programme to improve policy quality and capability. Sally has worked in senior roles in New Zealand central agencies and internationally including seven years at the OECD where she was responsible for a research programme and facilitating a network of the Heads of Prime Ministers/Presidents offices from OECD countries. She has worked as an advisor and speech writer for a New Zealand Cabinet Minister and in a Prime Minister's policy advisory group. She works with a number of jurisdictions on building systems and frameworks for improving policy quality and capability.
Sally and Michael believe in the richness of merging academic and practitioner insights and collaborate regularly.
Suggested pre-reading
Sally Washington, Michael Mintrom. (2018) Strengthening policy capability: New Zealand's Policy Project, Policy Design and Practice 1:1
On Tuesday 19 November 2019 at 9:00am
Location
The Nous Group Seminar Rooms
Level 19, 567 Collins Street, Melbourne , VIC 3000
Contact Details
The Policy Infrastructure
Make a booking, click below
Resend tickets to your email address.
Contact the event organiser.
You can review the event organiser's terms and conditions here.
The Policy Infrastructure
You can review the event organiser's terms and conditions here.
If you can't find your tickets, click here.
Your email has been sent.
The organiser will be sent the details of this message.

Sorry, there appears to have been an error. Please try again later.