When we harness our infinite POWER, connect to the PASSION of our beating heart, and align to the PURPOSE of our soul, a true leader is born!
Every person has a legacy to leave on this planet, and the world is ready for leaders with embodied awareness who can make decisions that are in alignment with love and service. Whether you're a leader of a nation, business, project, group, family or simply of your own life, when you lead with soul you are part of a new consciousness growing on the planet that is expansive, authentic, generous, loving and exquisitely beautiful.
Join Chantelle Raven, Aaron Kleinman and the Eliyah Team for a 8-day immersion into a conscious, potent field of embodied awakening.  The synthesis of Tantra, Neuroplasticity, Shamanism, Self-Enquiry, heart-centred practical business principles, evening ceremonies, morning movement, sound healings and kundalini practices will create lasting transformation at a cellular level.
__________________________________________________________________________________________
WHO THIS RETREAT IS FOR:
Anyone who is ready to make the powerful shift from ego constructs we are taught early in life from parents and society to a life of meaning and deep soul fulfilment.
NOTE ON CERTIFICATION: The Soul Leadership Retreat is Level 2 of Eliyah's 3-Part Tantra Training. This Level 2 Training gives each individual the knowledge, experience and embodiment of what it is to live from the Soul, throughout every part of the human experience. This is vital for anyone wanting to guide others into a place of remembering and awakening.  Note: either Level 1 OR Level 2 is pre-requisite for the certified Level 3 Training.
_________________________________________________________________________________________
DETAILED RETREAT SUMMARY:
DAY 1 - ARRIVAL & OPENING CIRCLE
We open this sacred journey by creating a safe container within which people have full permission to be themselves. 

We set the foundations and intentions for the week, for you to show up in the world as the powerful, soulful and unique leader that you are.
DAY 2: LIVE YOUR PASSION
How to Break Free

of limiting collective and personal conditioning that block the light of your unique soul from fully shining

Clarity on your values and strengths

so that you can align with your most authentic, meaningful path

How to get your masculine and feminine on the same team

with a powerful voice dialogue technique so that you can action your visions

Anchoring the ability to have a plan but also let go of the plan

when needed to completely surrender

Accessing your body wisdom

to live an authentic life that lights you up and takes you out of your mind and into your heart

How to be a master not a novice

with commitment, a growing skill-set, determination and an ability to turn challenges into opportunities
DAY 3: TRANSFORM YOUR RELATIONSHIP TO MONEY
Group and self-enquiry into the energy and consciousness of money

so you gain a deep understanding and can joyfully interact with this alive energy

Activation of your financial potential

by learning to love money so "she" can love you right back

Release fear, guilt, shame and worry about money

by replacing a lack mentality with an abundant field of energy that permeates your thoughts, feelings and actions

Discover what money wants to say to you

and learn how to joyfully interact with this energy and ask her to support you

Initiation into an attitude of gratitude and plenty

so that you keep magnetising money towards you and accepting it wholeheartedly into your life
DAY 4: SELF WORTH - TAKING BACK YOUR POWER
Effective strategies to address your inner critic

as well as dealing with external resistance you may face from dear ones as you pursue your calling

Develop a combination of intention, conviction and persistence

to help you take the risks you need to take with confidence and never give up on what you believe in

Replacing the need for external approval and control

with an impenetrable inner approval and the ability to respond rather than react

Shadow work practices

so you can let go of being perfect and fully embrace, accept and love your humanness

Creating a sense of self-worth

by honouring your natural patterns of rest, focus and play, so you can move through life with a sense of ease
DAY 5: YOUR SOUL PURPOSE - LEAD WITH LOVE
Initiation into Silent Practice

so you can feel the potential of creative power that births from the void and your connection to source

Shifting from being outcome-oriented to love and service-orientated

which ironically gives you more than when you are focussed on what you can get

Learn to listen to your soul's inner guidance

so you can be true to yourself and your heart

Transition from a human "doing" to a human "being"

who is a channel for grace, rather than being stuck in the egoic "I want more" mentality

Identify what distracts you from your soul purpose and what supports it

so you can shed what no longer serves you and commit to what does
DAY 6:  MANIFESTATION, LIFE FORCE ENERGY AND SEX MAGIC
The importance of breathwork, energy and full vocal expression

in living, serving and loving from an authentic space of embodied awakening

Understanding the power of orgasmic energy

to manifest and the connection between sexuality and the law of attraction

Kundalini practices to support you in embracing your body and sexuality

as a source of healing, activation, vitality, creativity and power

Gentle body work to support you

in somatically releasing fears and activating your capacity for joy, pleasure, self-love and confidence

Sex Magic Medicine (a fully energetic body prayer)

to manifest your vision with the support of another or on your own
DAY 7:  COMMUNITY AND REAL SERVICE
Make the shift from ego driven ambition to a life of meaning

by finding joy in serving others and extending your energy beyond individual gain into the collective soul

Learn how to form a community and soul family

where you support and feel supported in living a life of more ease, abundance, joy and power

Understand the difference between sharing power and exercising power over

so that you can support your brothers and sisters rather than competing

Formulate a soul derived purpose statement

as opposed to ego driven mission statement and understand the difference

Learn networking and delegation skills

as well as having the opportunity to invite into your life community and temple-based living
DAY 8: INTEGRATION - SOUL LEADERSHIP AS A WAY OF LIFE
The importance of brotherhood, sisterhood and community

to integrate soul leadership into your life rather than isolating or returning to old ways

Lead with soul in all areas of your life

as a way of focusing on service to others, human connection, generosity, compassion and community

Using meditation and journal writing

to reflect on new learnings and to contemplate carefully any new decisions.  Slow and steady wins the race.

Decide on and commit to a daily practice

that connects you to Source and keeps you on the path of being a Soul Leader

How to use the Mastery and Purpose Manual

to give practical application to all you've learnt and experienced during the magic of this retreat
 __________________________________________________________________________________________
RETREAT VENUE:
A hidden gem just out of Ubud, Amatara Royal Ganesha is a stunning resort set amongst rice paddies in 2ha of tranquil beauty. With an infinity pool and day-spa that is surrounded by enchanting gardens and ponds, this venue is designed to spoil you into deep relaxation. Their friendly staff will look after your every need and cook 3 delicious meals a day.  All rooms are spacious and airconditioned, overlooking the luscious surrounding nature.  Your time at Royal Ganesha will be one of beauty, relaxation and magic!
For more information, visit their website here: https://www.amatararoyalganesha.com/
__________________________________________________________________________________________
RETREAT DETAILS:
DATES & TIMES
- Saturday 6th June - Saturday 13th June 2020
- 2pm check in on the 1st day (6th June) for a 4pm start.
- 12:30pm finish on the last day (13th June)
INVESTMENT
Prices in $AUD
~ SINGLE TICKET, SHARED ROOM ~
Single ticket, shared twin room with 1 person of same gender, PRIVATE bed
- Full price: $3,200
- Deposit: $1,000*
- Early bird: $2,799, until 11th April 2020
~ SINGLE TICKET, PRIVATE ROOM ~
Single ticket, PRIVATE bed and PRIVATE room
- Full price: $3,500
- Deposit: $1,000*
- Early bird: $3,060, until 11th April 2020

~ COUPLE'S TICKET, SHARED ROOM ~
Couple's discounted ticket, PRIVATE ROOM, shared bed
- Full price: $5,890 ($2,945 pp)
- Deposit: $1,500
- Early bird: $5,150 ($2,575 pp), until 11th April 2020
*Deposit to secure spot: non-refundable, remaining due 4th May 2020
CONTACT
For any questions, please contact:
Tara Meegan (Eliyah Event Manager)
Email: info@eliyah.com.au
__________________________________________________________________________________________
YOUR FACILITATORS: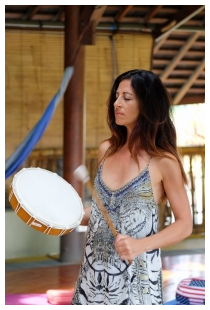 CHANTELLE RAVEN - has been facilitating workshops and retreats in the field of spirituality and Tantra for almost 20 years.  Inspired by Tantra, Psychology, Philosophy and Shamanism, she is an accomplished Teacher and Practitioner whose teaching style is pragmatic, comprehensive, down-to-earth, and always has an element of fun as well as intensity.
Chantelle grew up with meditation and personal development in her home.  She was facilitating motivational workshops in her 20's as a successful CEO, and then after having her first child, moved into women's work, writing her first of many books.  When Chantelle experienced a massive personal health crisis (cervical cancer) she then placed all her time and commitment into the alternative healing arts where she uncovered her heart's vocation in Tantra.  Fast forward a decade and Chantelle has established the Eliyah Tantra School and has taught countless classes, workshops and retreats all over the world.
Chantelle's energy, knowledge and passion will inspire you to change the way you look at life, love, sex, spirituality and the emotional body in ways that will remind you who you really are.
For more information on Chantelle and her school visit:  www.eliyah.com.au
AARON KLEINERMAN - is a Transformational Sex and Relationship Coach & Facilitator. He came from a childhood of complete chaos, dysfunction and at a young age completely lost faith in humanity. After attending the prestigious US Merchant Marine Academy, he found a great job, travelled the world and made tons of money, but realized he wanted more. His soul journey brought him close to death numerous times on both the high seas and his travels to remotes places across the globe.
Through these experiences he realized that life is not about personal achievements and egotistic desires, but rather about deep soul remembrance and fulfilling one's dharma. He has learned from the great masters in the field of sexuality and transformation, including earning a master's degree in spiritual psychology. Now he helps his clients remember who they truly are in order to awaken their inner erotic wisdom.
Aaron went from being a licensed captain navigating ships to a sexual behaviour and movement specialist navigating souls. His workshops, retreats, sessions and speeches help humans integrate body movement, psychology, sexuality and spirituality. He speaks and shares honestly and transparently so that others can unlock the real reason for their human existence. Aaron is now fulfilling his own dharma and has dedicated his life to helping humanity wake up and remember their soul's unique gift.
For more information on Aaron visit www.AaronKleinerman.com
THE ELIYAH TEAM:
Tara Meegan and Antosh Sokol, and Georgia Rose will support participants on their journey, infusing the retreat experience with their unique expertise in the areas of Shamanism, Tantric rituals, Temple Dance, Bhakti (devotional) Tantra and daily Yoga.
__________________________________________________________________________________________
TERMS & CONDITIONS
FULL Terms and Conditions are available prior to ticket purchase.
Soul Leadership Retreat - Bali 2020
Make a booking, click below
Resend tickets to your email address.
Contact the event organiser.
You can review the event organiser's terms and conditions here.
Soul Leadership Retreat - Bali 2020
You can review the event organiser's terms and conditions here.
If you can't find your tickets, click here.
Your email has been sent.
The organiser will be sent the details of this message.

Sorry, there appears to have been an error. Please try again later.