One Night Only...  Central West Tour
KANDOS - Friday 22 November, 8.30pm
GULGONG - Saturday 23 November, 8.00pm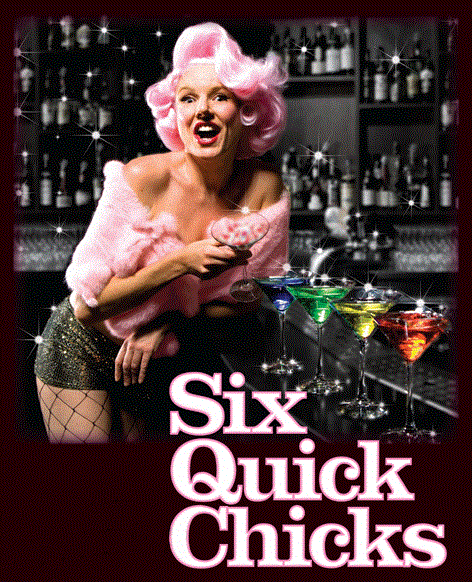 They're funny. They're sexy. Longtime Sydney underground faves Six Quick Chicks return to the Central West, with their rollercoaster hour of cabaret comedy, quick fire repartee, a host of sassy characters and the odd song!
Come see these outlandish ladies of the cabaret strut their wares with a heady mix of the high-brow and low, a scoop of the surreal and a generous serving of sultry sophistication. Bring your laughing gear!
Smash hit of the 2017 Cementa Fringe, they're in town for one night only! Come one, come all!
"Alternative cabaret at its best… A great night of night of stand-up/ roll around wit from six sexy femmes..."  Stephen Lovelight, Drum Media
                    Tickets:       $40 + BF
                    Warnings:   Strong adult themes
                    Age:            16+  Parental guidance recommended
Friday 22 November 2019                         Saturday 23 November 2019
AdHoc Furniture, Kandos                              Bank Corner Wine & Gelato Bar, Gulgong
79 Angus Ave                                              107 Mayne St
Doors:        8pm                                            Doors:        7pm
Show:        8.30pm                                       Show:        8.00pm    
*BYO Venue                                                *Licensed Venue
Narelle Lewis, Producer
narellelewis@yahoo.com.au
www.sixquickchicks.com.au



www.facebook.com/SixQuickChicks/
SIX QUICK CHICKS are: Claire Aztec, Jude Bowler, Leonie Cohen, Celia Curtis, Christa Hughes, Vashti Hughes, Ross Johnston.
This event is currently closed and no contact details are available