The Art of Loving Men - Women's Workshop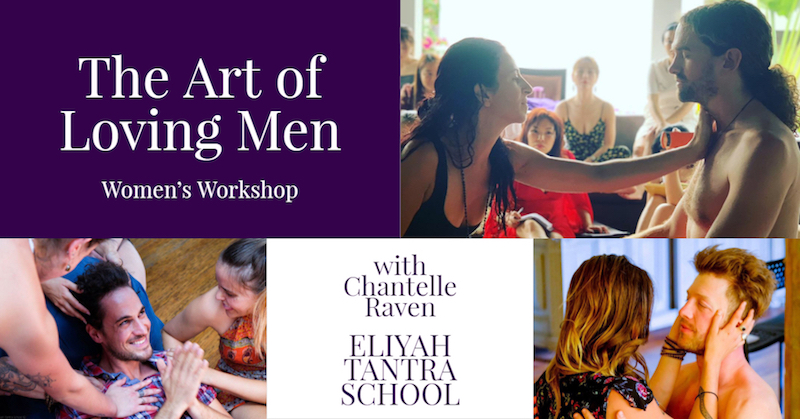 In this two day immersive workshop, Internationally Renowned Tantra Teacher, Chantelle Raven, will dive deep with you in exploring how to let go of your protective armour and open to loving with a transparent, receptive, trusting heart.
We will journey into this through experiential Tantric and Conscious relating practices THAT WORK.
We will also be guiding you into how to truly hold a man – all of him. You will have an opportunity to practice what you learn within sacred ritual that male volunteers will join us for (who we know and trust).
__________________________________________________________
WE WILL EXPLORE:
- Understanding masculine/feminine polarities; enticing desire and heightening chemistry
- How to love, honour and worship men and see them as the divine beings that they are
- Deepening into your own self-love journey with your own inner man and evolving your inner masculine energy
- The importance of realising your boundaries for much deeper healing
- Surrender and trust both in and out of the bedroom to create more vulnerability and emotional safety
- Understanding what men and women need from each other to experience deeper levels of intimacy and connection
- How to hold space for a man whilst being in feminine energy, making it safe for him to open up emotionally to you
- Awakening a man's heart through sacred sexuality and Tantra
- Understanding the effects of emasculation on a man and how to heal this
** For men, we have an opportunity to attend the final Ritual for this weekend (contact Georgia, details below) OR come along to The Art of Loving Women Weekend (May 2nd & 3rd): www.facebook.com/events/529654017628511/__________________________________________________________
ART OF LOVING MEN WORSHIP RITUAL:
On the afternoon of the second day we will invite men to come into the temple to be worshipped in a sacred ritual. This will integrate the teachings you have learned.
If you have a partner, you will be welcome to invite him to be part of the ritual and to be partnered with you exclusively if you prefer. If you do not have a partner to invite we will have a group of incredible men that we will be inviting to join us in the ceremony.
Please let Georgia (Event Organiser, Host & Support) know your partner's name (if you're bringing one) by emailing georgia.rose.liberate@outlook.com.
This part of the workshop is to bring men and women together in love, honour and reverence and this is a potent and powerfully healing ritual.
Please come with your intention for healing as well as experiencing and learning.
Please note, although this is a workshop based around intimacy, nudity is not required and there will be no genital touch practices.
________________________________________________
WHO IS THIS WEEKEND WORKSHOP FOR?
Any and every woman! Single, in a relationship or looking for a relationship.
Women who want to understand men and connect to them on a much deeper level.
It is for women who would like to learn more about how sacred sexuality can awaken and liberate a man's heart.
_________________________________________________________________
WORKSHOP DETAILS:
WHEN
Saturday 18th and Sunday 19th of April 2020
 
TIME
SAT: 11am – 7:00pm
SUN: 11am – 7:00pm
VENUE
Mind Body Heart Studio
81 Nanson Street, Wembley
TICKETS
Via "Book Now" button
Weekend Single: $399
Weekend Bring a Friend Discount: $640 (only $320 each!)
Strictly limited numbers.
Tickets required to secure your place as these events consistently sell out
Contact Details
Georgia Rose (Event Host & Support) georgia.rose.liberate@outlook.com_______________________________________________
YOUR FACILITATOR:
CHANTELLE RAVEN
Chantelle has been facilitating workshops and retreats in the field of spirituality and Tantra for over 20 years. Inspired by Tantra, Psychology, Philosophy and Shamanism, she is an accomplished Teacher and Practitioner whose teaching style is pragmatic, comprehensive, down-to-earth, and always has an element of fun as well as intensity.
Chantelle's energy, knowledge and passion will inspire you to change the way you look at life, love, sex, spirituality and the emotional body in ways that will remind you who you really are.
For more information on Chantelle and her school visit: www.eliyah.com.au
____________________________________________________________________
CANCELLATION POLICY
Deposits are non-refundable
Cancellations: Strictly no refunds
You may transfer your spot to someone else, but this is your responsibility to organise
The Art of Loving Men - Women's Workshop
Make a booking, click below
Resend tickets to your email address.
Contact the event organiser.
You can review the event organiser's terms and conditions here.
The Art of Loving Men - Women's Workshop
You can review the event organiser's terms and conditions here.
If you can't find your tickets, click here.
Your email has been sent.
The organiser will be sent the details of this message.

Sorry, there appears to have been an error. Please try again later.