Newport Workshops Open Days - Sat 7 - Mon 9 Mar 2020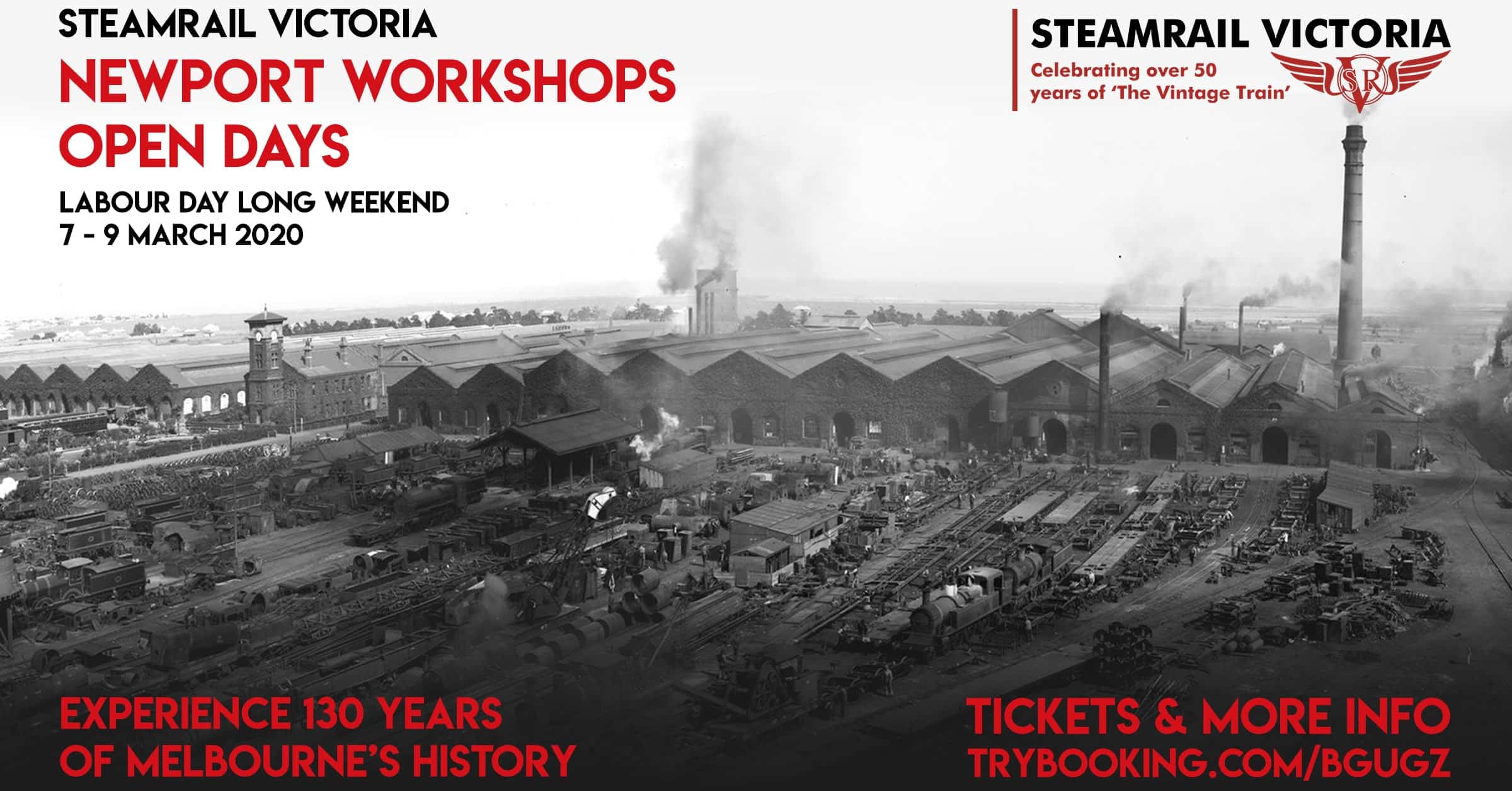 See over 10 STEAM LOCOS ON DISPLAY! 
- Steamrail Victoria's A2 986, D3 639, K153, K190, R711 & R761 all in steam.

- 130 year old Y112 - Currently Australia's oldest operating mainline locomotive - on loan from Sovereign Hill & operational in steam

- K160 from the Victorian Goldfields Railway and J541 from the Yarra Valley Railway

- R707 from 707 Operations

- Other special guest Steam Locomotives yet to be announced.  

 

PLUS 

- Heritage Diesels & Electric locomotives,

- The preserved electric 'Red Rattler' Tait Set,

- Railmotor RM58 from DERMPAV

- 100+ year old Victorian & South Australian carriages open for public inspection


OTHER DISPLAYS

- Guided Tours of the 132 year old railway workshops

- See how the only remaining operational Steam Locomotive Weighbridge in Australia works

- An operational Bren Gun Carrier - identical to those built in the workshops for WWII

- Displays showcasing the workshops' rich railway & wartime history

- Enjoy a game of 'Trugo' under the clocktower - the 1920s sport invented at the workshops

- Vintage Cars & Machinery, Railway Models & Historic Displays

- Displays from local history groups - Seaworks Maritime Museum, HMAS Castlemaine & Williamstown Historical Society

- 1940s Club Car 'Moorabool' serving light snacks & refreshments

 

NEWPORT RAILWAY MUSEUM

Included with your ticket is free entry to the Newport Railway Museum. Visit the 140 year old F176 or Victoria's largest locomotive, the famous Heavy Harry. Also open for viewing will be the heritage North Williamstown Signal Box, O-Gauge model railway and various suburban rail carriages dating from the 1888 'Swing Door' to the 1980 'Hitachi' and 1983 'Grey Ghost' carriages.
EVENT INFORMATION
Children under the age of 16, must be accompanied by a parent or guardian to visit the Newport Workshops Open Days or Newport Railway Museum. 
Food will be avaliable with Club Car 'Moorabool' serving light snacks & refreshments as well as Food Trucks and a sausage sizzle hosted by DERMPAV.
Toilets will be avaliable onsite.
A heritage shuttle bus will be operating over the three days, making a round trip picking up and setting down at Newport Station, Steamrail Newport Workshops (Open Days Location) and the Newport Railway Museum. This will be operated by 1953 AEC Regal Mk III ex M&MTB no. 592.
Due to the nature of the workshops dating back to 1888 and being an active rail yard, the ground inside and outside the workshops can be rough and uneven. Grass, concrete and gravel paths cover most display areas. Access inside carriages and locomotives can be limited with stairs being in place.
Our shuttle will be provided by a heritage 1950's bus. Due to the age and design of the bus, unfortunately there will be no wheelchair access.
 

* * * Note:  You should receive your tickets, soon after you make your Booking. * * *

* * * If they do not arrive, please check your Spam/Junk Mail Folders. * * *

 

LOCATION
CHAMPION ROAD NORTH WILLIAMSTOWN. MAIN GATE AT WATERTOWER OPPOSITE CEMETERY.

OPEN TIMES
10am to 5pm Daily, Saturday 7th to Monday 9th March 2020 (Victorian Labour Day Long Weekend)

CONTACT DETAILS

(03) 9397 1953 (9am until 5pm, Tuesday to Friday only) - or email info@steamrail.com.au



This event is currently closed and no contact details are available