RWA OWL: Pen a Kick-arse Short Story in 9 Easy Steps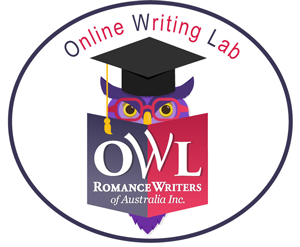 How hard can it be to write a short story? It has to be easier that writing a novel because, well, they're short … right?
But just because there are less words in a short story, it doesn't mean it takes any less skill to engage and satisfy your reader.
Short stories do, however, take less time to write. So if you're struggling to learn the ins and outs of how to write a novel, try penning a short story first and take the time to practise your craft before attempting a longer work.
Learning how to write a submission-worthy short story means you'll develop the skills you need to create well-rounded character arcs and construct interesting and well-paced plots. You'll also learn how to make every word count—so much so that it'll become second nature to know when to show and when to tell. It goes without saying, then, that you'll keep your reader hooked and turning pages until the very end.
Now that we've established how learning to write a short story will benefit you in the long term, set yourself up for success this competition season by joining Libby M Iriks for Pen a Kick-arse Short Story in 9 Easy Steps. RWA's short story competitions, Sweet Treats and Spicy Bites open in January, so this course will give you plenty of time to craft and polish the perfect short romantic tale. Put yourself ahead of the pack and enrol now!
If that's not enough to entice you, perhaps this will: all course participants will have the opportunity to submit their stories anonymously for peer and presenter feedback. Plus, they will go into the draw—with opportunities to earn extra entries throughout the course—to have their completed short story professionally edited by Libby.
Pre-course preparation
The course is designed for those writers who are still developing their craft. All concepts will be explained for those who come with little writing experience, and in some cases, I'll point participants to online resources and articles that further explain concepts.
Course Type
Craft.
Hours of Commitment
Participants will need to dedicate somewhere between 15-25 hours to this course, which includes planning, drafting and editing their stories, as well as giving feedback to their peers. The workload will be heaviest in the second week of the course when participants draft their story and in the final when participants are providing feedback on their peers' complete stories.
Presenters Bio
Libby M Iriks is the commissioning editor of romance for Vulpine Press and offers freelance editing services at Perfect Pear Editing and Proofreading. She writes small-town romance where the chemistry sizzles and love is forever. 
The first short story she ever penned, Breaking Free, was a placegetter in RWA's Little Gems competition in 2016. 
Another of her short stories, His Luminous Gemstone, caught the attention of a reviewer who had this to say: "This story has it all—a powerful plot, an interesting male lead, a strong sexy female, and fabulous settings. It's superbly written!"
All participants of Pen a Kick-arse Short Story in 9 Easy Steps will receive a free copy of His Luminous Gemstone.
Course Dates: 7th September to 2nd October 2020
Cost: RWA-Member – $55.00 Non RWA-Member – $88.00
* Please note, there is a $0.50 Trybooking fee at checkout.
Venue: Online - RWA Moodle Platform
(Course attendees will be notified of access/login details via email from the OWL Registrar a few days prior to the start date of the course)



RWA OWL Courses
PO Box Q740




Queen Victoria Building




NSW 1230



Contact Details:




Debbie Deasey




OWL Registrar




owlsregistrar@romanceaustralia.com
SaveSave
RWA OWL: Pen a Kick-arse Short Story in 9 Easy Steps
Make a booking, click below
Resend tickets to your email address.
Contact the event organiser.
You can review the event organiser's terms and conditions here.
RWA OWL: Pen a Kick-arse Short Story in 9 Easy Steps
You can review the event organiser's terms and conditions here.
If you can't find your tickets, click here.
Your email has been sent.
The organiser will be sent the details of this message.

Sorry, there appears to have been an error. Please try again later.