Factory Espresso Comedy with Tony Martin and Akmal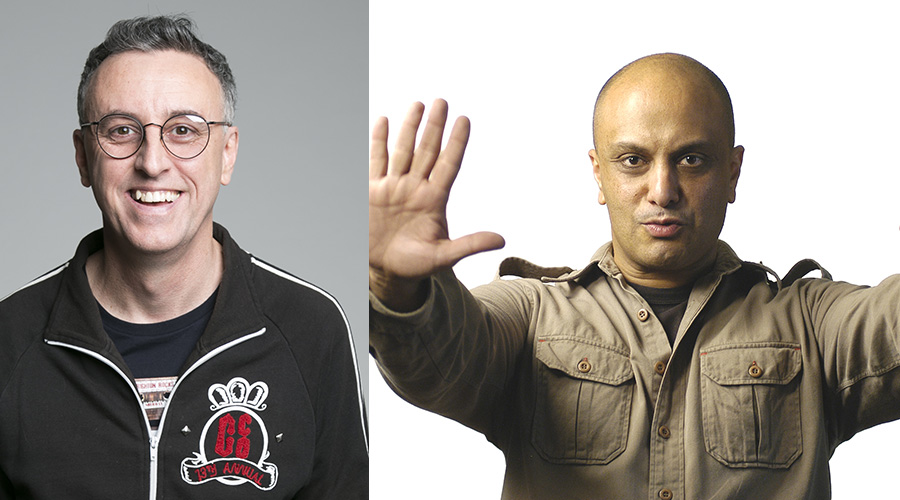 Usually described as a 'New Zealand-born funnyman', Tony Martin has been pissfarting about in Australian comedy for the last 35 years. On TV, he worked on 'The D-Generation', 'The Late Show', 'The Panel', 'Kath & Kim', 'Thank God You're Here', 'Upper Middle Bogan', and the current hit 'Have You Been Paying Attention?' On radio, he was one half of 'Martin/Molloy' and the creator of 'Get This'. On film, he wrote and directed 'Bad Eggs' and appeared in 'Crackerjack' and 'The Castle' (for nine seconds). He is the author of four books including the recent bestseller 'Deadly Kerfuffle'. He co-created the award-winning podcasts 'Childproof' and 'Sizzletown' and since 2015 has performed with (ex-TISM singer) Damian Cowell's Disco Machine. Oh, and he's been doing stand-up since 1990 and reckons he's nearly got the hang of it.
Movies, Sketch, Stand-Up, TV appearances, radio DJ and talk show host, improvisation and a published author, Akmal is one of Australia's most respected, successful and accomplished comics.  He displays an incredible ability to deal with hot topics in a hilarious and non-offensive way.
Being Australia's only Arab comedian, His Arab heritage steers his comedy to issues of religion, honesty, hysterical looks at modern day life. His uncanny comedic gift means he is one of those gifted comedians who has the audience eating out of the palm of his hand as soon as he walks on stage.
Akmal's popularity has increased considerably over the last 10 years due to his regular appearances on national television shows such as Rove, The Glass House and "Thank God You're Here". As a result Akmal has toured the country with numerous sell out tours including his "Hoot" and "Gullible" tours. Akmal wrote and starred in "All Aussies are Boofta" - a sketch comedy show which enjoyed three successful seasons and critical acclaim at the legendary Harold Park Hotel, the Parramatta Riverside Theatre and The Harbourside Brasserie
He has appeared at Festivals all around the world including Adelaide Fringe Comedy Festival and Melbourne Comedy Festivals, Vancouver Comedy Festival, New Zealand Comedy Festival and the Edinburgh Fringe Festival.
Akmal's strength is his stream-of-consciousness ramblings and his interaction with the audience" The Age, Melbourne
 
"The Egyptian - born Saleh has a quick wit and extremely warm persona on stage, his informal banter with the audience makes you feel immediately at ease." Sydney Morning Herald
"Saleh's acutely observed look at life in the low-income, new Australian bracket was a hilarious delight, charmed the socks off the crowd." Telegraph Mirror
Location
Factory Espresso
135 Kite St, Orange, NSW 2800
This event is currently closed and no contact details are available