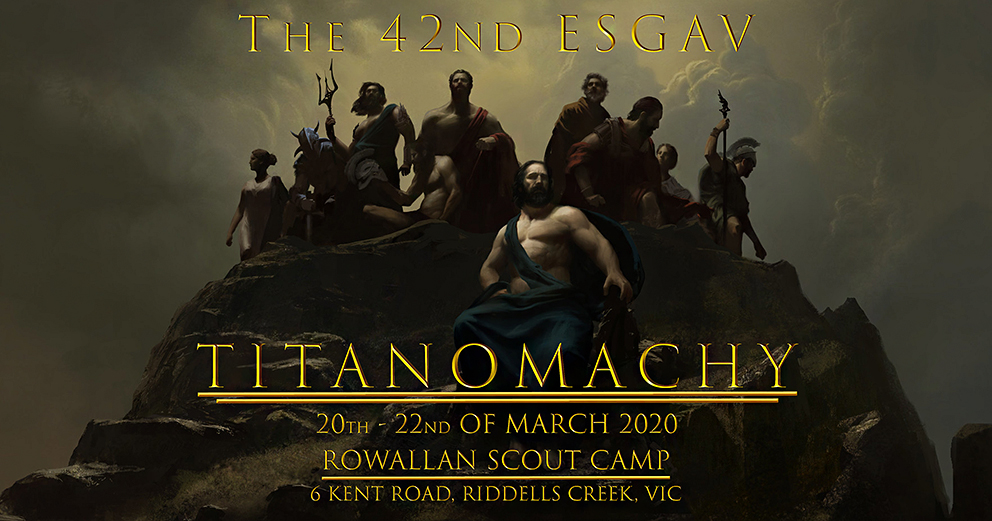 ESGAV is holding its 42nd annual camp from 5pm Friday 20 March - 4pm Sunday 22 March, 2020.

Zeus's time has come to seize back the the throne of Mount Olympus from the Titans and so starts the Titanomachy, War of the Titans!
Which Greek God do you praise?
Who will you pay tribute to?
What adventure awaits you?

At ESGAV we aim for you have an exciting, engaging and educating experience where you gain and grow with others in your scouting ways and make lasting friendships and skills.
Have the attendee's health and other info at hand before continuing. You must complete it in one process.
Full Terms and Conditions must be read before completing the purchase.
Attendees may not leave the camp before 4pm on the Sunday without the prior approval of BOTH ESGAV and the respective National Leader. 
ORGANISER TERMS AND CONDITIONS.
NOTE: ESGAV is obliged to void and refund tickets issued that are not approved by the respective National leader. Attendance is also subject to the Terms and Conditions stipulated by the attendee's respective National Scouting/Guiding authorities.
Arrival: Arrival at the campsite is no earlier than 5:00 p.m. Friday March 31, 2017.
Departure: Departure from campsite is NOT BEFORE 4:00 p.m. Sunday April, 2017 without permission from both ESGAV and the attendee's National Group Leader.
The following rules are designed to maximise the enjoyment for all who attend camp. Individuals obtaining enjoyment at other's expense is not the scouting way.
ESGAV camps are aimed primarily at the 13 to 25 years age groups but will accept youth attending Year 7 at school and upwards with their national group's authorisation on the understanding that they will participate in all activities.
Rovers, Rangers and all leaders registered with their National Groups are invited to attend whether to assist in the running of the camp or even to participate (under 26 years of age only) provided they understand and abide with these rules. The camp is run under the principles of the Scout and Guide movements which include upholding the law of the land.
Consumption of alcohol and drugs is therefore not permitted within the camp. Smoking is actively discouraged and only permitted in prescribed areas - no one may smoke anywhere in camp where express permission has not been granted.
Noise and movement after lights-out is to be kept to a minimum.
Breach of these conditions may lead to restriction of participation, expulsion from camp or involvement of legal authorities if required. Minors will only be expelled from camp into the care of their legal guardians or the police. National Groups may take further action.
Official National Scout or Guide uniform is required for the opening and closing ceremonies. An ESGAV windcheater with scarf is acceptable and recommended for the Saturday flagdown and Sunday flagraising and a windcheater may be pre-ordered or purchased in camp, although ESGAV cannot guarantee stock if not ordered in advance. Otherwise full uniform must be worn for these events also.
Standard gear for camping in tents in the bush is required such as suitable clothing and footwear; dishes, utensils and cups for eating and drinking (the camp does NOT supply these); sleeping bag; toiletries & towel; basic first-aid gear; pen & paper; torch; water bottle; compass; (legal) pocket knife; etc. It is encouraged to bring clothes and props suitable to the camp theme, which is 'TITANOMACHY' (Greek mythology - clash of the titans) please see: httgs://www.facebook.com/events/724536181396245 for more detail).
Ensure all property is personally identified so it can be returned if lost. Safety of personal items cannot be guaranteed due to the open nature of campsites and tents. Please do not bring valuables or keep them with you at all times. Electricity for re-charging personal equipment is not generally available.
The ESGAV Executive and Camp Committee take care to provide for the communal facilities and activities. Attendees and their property remain the responsibility of their National Group leaders who retain the necessary authorities and responsibilities. However, as the ESGAV Camp Committee is charged with the overall safety and amenity of the camp it has final say in such matters in conjunction with the ESGAV Executive.
In the spirit of co-operation all attendees are expected to carry out any reasonable request made by the Camp Committee and/or its representatives.
Scouting is recognised as involving activities with varying levels of risk and all participants acknowledge such risks and choose to take part willingly.
Insurance has not been taken out by ESGAV on the expectation that each National Group has their own insurance and no liability is accepted by anyone organising or assisting in the running of the camp for any injury or loss that may occur. Please ensure your own group has adequate insurance and/or arrange personal insurance as desired.
Location
Rowallan Scout Camp
2 Kent Road, Riddells Creek, Victoria 3431

This event is currently closed and no contact details are available