Pilates by Webinar 11 February to 17 March 2020 (6 classes)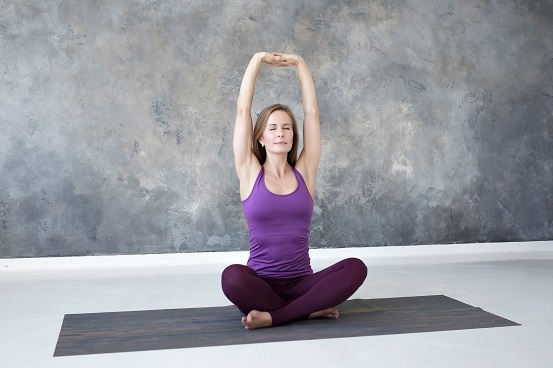 The exercise form of "Pilates" was developed by Joseph Pilates, a German-born physical trainer. His intention was to strengthen the human mind and body. Joseph Pilates believed that mental and physical health were interrelated.
It is already known that physical activity and exercise are important for people with MS to manage their disease and improve their quality of life, however, there is no clear evidence as yet that one particular form of exercise is better than another or exactly how much exercise is enough.
Pilates, an exercise regime invented by Joseph Pilates in the 1920s, is known to strengthen and tone muscles, improve core strength, increase flexibility, help with balance and improve a person's range of motion. Pilates uses controlled whole body movements, and sometimes includes the use of specialised equipment, to work major muscle groups of the body.
A clinical trial has examined whether Pilates might be a beneficial form of exercise for people with MS. The trial found that the participants who took part in Pilates had significant improvements in their walking performance and functional ability: Impact of Pilates Exercise in Multiple Sclerosis
THE PROGRAM
This six-week program is presented by Ella Wong, Director of Pilates Tasmania. Ella has been practicing Pilates since 2004 and holds high respect and passion for its philosophy, functionality and results. Ella teaches Pilates to a range of people with various conditions, including multiple sclerosis and understands the limitation faced by those living with the condition. As such, Ella has tailored this program to ensure it is available to all, therefore delivering the Pilates by Webinar series in a seated chair position as well as in the standing position. 

Ella completed her Diploma through Pilates ITC, and enjoys teaching mat and studio sessions and sharing the benefits with others.  Her philosophy and approach to teaching is to practice what you preach – and treat yourself well; your body will love it.
SESSION TIME AND DATES
This six-week series** will run from 3.00pm to 3.45pm on:
Tuesday 11 February

Tuesday 18 February

Tuesday 25 February

Tuesday 3 March

Tuesday 10 March

Tuesday 17 March
COST $60 for the 6-week series
If the cost is prohibitive, we have a limited number of bursaries to cover the cost which will enable you to participate without any expense. Please email education@ms.org.au or call Annie Sassin on 03 9845 2728 to enquire about the available bursaries.

**The weekly sessions will be recorded and made available each week for those who register. If you're unable to attend the live webinar at the scheduled time, you can view the session recording at a time convenient to you.

REGISTRATIONS CLOSE Tuesday 4 February 2020
LOCATION This series is run by webinar so you can do it in the comfort of your own home. You will need a computer and internet connection. 
PLEASE NOTE By registering to participate in this program, you accept and agree to be bound by these MS Terms and Conditions and this Pilates Tasmania Informed Consent Notice.  
CONTACT DETAILS Education Team: education@ms.org.au
This event is currently closed and no contact details are available