Singapore Maths with Judy Hornigold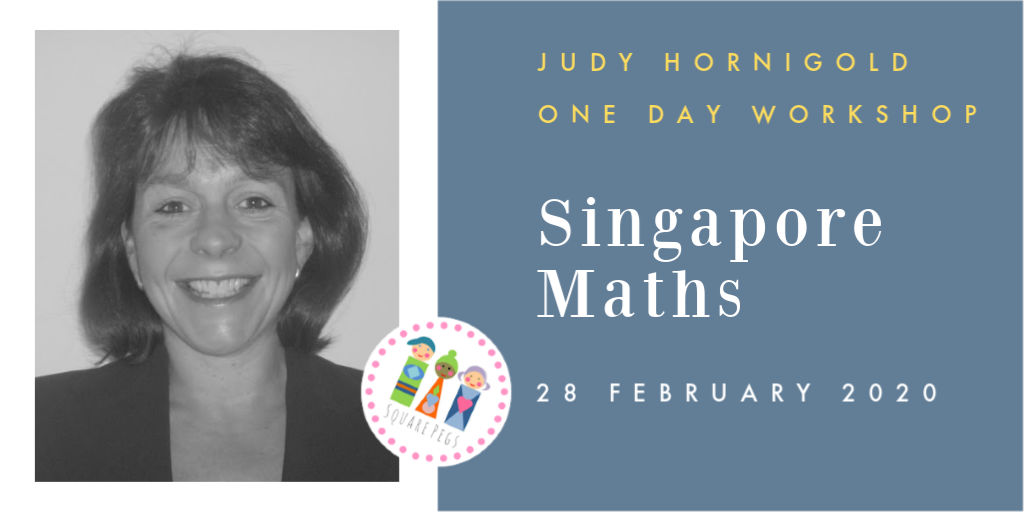 An interactive, practical one day workshops on Singapore Maths by UK based expert Judy Hornigold. Don't miss out!
Judy Hornigold is a UK based expert in Dyslexia and Dyscalculia. Her sessions at the 2017 Square Pegs conference received rave reviews, for her expertise, energy and practical approach to helping children with maths. We are thrilled that she is able to return to Hobart again in 2020.
Singapore consistently ranks at the top of the international assessment of student maths achievement called the Trends in International Mathematics and Science Study (TIMSS). Consequently, many countries are now looking to Singapore to find out about their approach to maths and why it is so successful.
For some people, it appears that Singapore Maths is the 'new kid on the block' and may be wary of yet another new initiative. However, nothing could be further from the truth. The approach to teaching maths in Singapore centres around problem solving and draws on research from very familiar names in educational theory.
The five main players in the approach are, Piaget, Dienes, Bruner, Skemp and Vygotsky. Their research spans four decades from the 1950s to the 1980s, so it is clear that Singapore Maths is nothing new.
Singapore Maths focuses on five core competencies in maths that children need to develop in order to be successful mathematicians. These are:
– Visualisation
– Generalisation
– Number Sense
– Metacognition
– Communication
These are areas that children with learning differences such as dyslexia and dyscalculia may struggle with, so the emphasis on these five competencies can support their understanding of maths, by helping them to strengthen these weaker areas.
Judy has no doubt from her experience with the children that I work with, that Singapore Maths is one of the most effective ways of teaching maths and will be beneficial to all children, whether they have specific learning differences or not.
The session will be very hands on with plenty of practical activities that practitioners will be able to implement straight away in their teaching.
On Friday 28 February 2020 at 8:45am
Location
Rydges North Hobart

Contact Details
Singapore Maths with Judy Hornigold
This event has now closed
Resend tickets to your email address.
Contact the event organiser.
You can review the event organiser's terms and conditions here.
Singapore Maths with Judy Hornigold
You can review the event organiser's terms and conditions here.
If you can't find your tickets, click here.
Your email has been sent.
The organiser will be sent the details of this message.

Sorry, there appears to have been an error. Please try again later.