The Wisdom of Abiding in Wellness - Ayurveda

The Wisdom of Abiding in Wellness - Ayurveda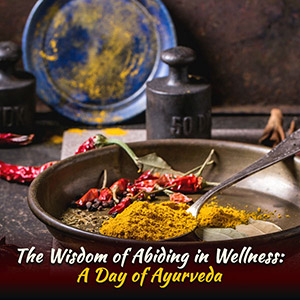 "Let food be thy medicine and medicine be thy food: all diseases begin in the gut." - Hippocrates
The ancient wisdom of Ayurveda teaches that wellness begins with good digestion. When signs of indigestion are apparent, we can reverse them before they compound through the six levels of imbalance, which can lead to irreversible conditions. This applies specifically to food and to our mental digestion of experience. Ayurveda teaches that honouring our unique pattern of energies (air/fire/water) is the key to a balanced life. If your diet, lifestyle and mind lead you to excess or deficiency, it is good to recognise that and start removing the causes.
Following on from the incredibly popular "Wisdom of Life", "Wisdom of Elements" and "Wisdom of Self-Care" events, we are delighted to again have Meta Doherty join us to bring her wealth of knowledge through "The Wisdom of Abiding in Wellness - A Day of Ayurveda' incorporating yoga, breathing, meditation, chanting, cooking and a discussion on recommendations for abiding wellness with some actual practices.
If you have attended any of our Ayurveda events, or if you are a first-timer, you are invited to join Meta and cultivate delight in Ayurveda through yoga, hands-on cooking and wellness practices.
Thousands of years before modern medicine provided scientific evidence for the mind-body connection, the sages of India developed Ayurveda, which continues to be one of the world's most sophisticated and powerful mind-body health systems.
More than a mere system of treating illness, Ayurveda is a science of life (Ayur = life, Veda = science or knowledge). It offers a body of wisdom designed to help people stay vibrant and healthy while realising their full human potential.
With a variety of experiential practices, you will have first-hand knowledge of why - by doing.
During this nourishing day we will:
Begin exploring ways to make wellness part of our daily routine with a luxurious yoga session.

Enjoy an Ayurveda snack and a cuppa, getting to know each other.

Prepare, cook and savour a delicious vegan, gluten-free lunch which will be balancing and respect the energies of the season.

The afternoon will continue with Meta sharing recommendations and actual practices on how it is easier to stay well than to get well.

Our day of restoring balance and abundant wellness teachings will end with some time and space to explore Questions and Answers and another Ayurveda snack and cuppa.
Meta Doherty is an IYTA (Australia) Yoga Teacher, Ayurveda Lifestyle Consultant and author of two books – Sattwa Café and Ayurvedic Forever Wellbeing, A Treasury of Holistic Recommendations. Over the past 20 years, Meta has lived and celebrated the exquisite nature of these traditional teachings, which are applicable to everyone.
The Sound Temple, Sawyers Valley WA
$120 per person - This is a ticketed event, no door sales available.
When: Sunday 29th March 2020
Start: 10:00am  (arrive from 9:45am)
Finish: 4:30pm
Included: A delicious Ayurvedic meal, morning and afternoon tea with endless cups of refreshments

To Bring: 
For your yoga session we recommend that you come dressed in comfortable clothing suitable for laying down. Blankets, mattresses, bolsters and cushions are all provided for your comfort.

Please wear shoes that are easy to slip off when you enter the temple.
Dawn 0474 555 444
The Sound Temple - 100 Marshwood Pl, Sawyers Valley
This event is currently closed and no contact details are available